Bad news and good news. The bad news is that the famed website cwartillery.org is no more. The good news is that the core information – if not the lively, efficient design – is still available online.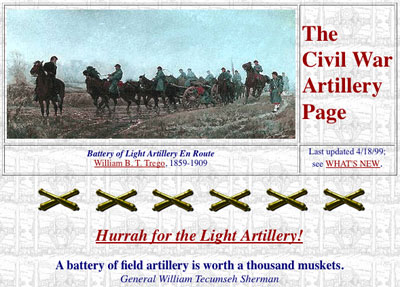 header, The Civil War Artillery Page, 1999 (C. Ten Brink)
Unfortunately, original author Chuck Ten Brink can no longer maintain the site, but he has passed the material to the care of the Robinson Artillery. It begins on their Civil War Artillery page.
Chuck first put his work on the subject on the Web in 1996, and has been thereafter the go-to guy for many of us on terminology, equipment details, guns and artillerists, and (in partnership with Wayne Stark) the Civil War Artillery Encyclopedia and the National Register of Surviving Civil War Artillery (sample: Antietam's page c. 1998).
I'll very much miss the old site, but say Hurrah, Chuck, for your long online service!
James F. Gibson, of Mathew Brady's Washington studio, took a lot of photographs as he traveled with the Federal Army on the Virginia Peninsula in early summer 1862. Among these are a number with particular interest in artillery and artillerymen. Well represented among them are Horatio Gates Gibson and his command, the combined Companies C and G of the Third United States Artillery.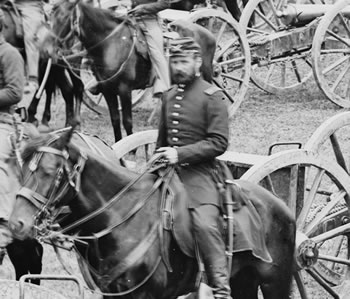 Capt. H.G. Gibson, 3d US Artillery, June 1862 (James F. Gibson, Library of Congress)
This is Regular Army Captain Gibson in the midst of his command in June 1862. It's a detail from a stunning picture of the entire battery of six 3-inch ordnance rifles and the nearly 100 officers and men who were present on campaign. Gibson and many of these were in action from the Peninsula through Antietam and Gettysburg to Appomattox Courthouse with the Army of the Potomac.
read the rest of this entry »
Just a quick post this week – I've too many irons in the fire. Blog neglect aside, though, January has been a good month for incoming treasures and catching up with biographies on AotW.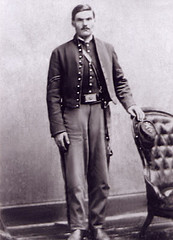 Corporal James A Barber (M. Frazel)
One in particular came out of a post I found on Granite in my Blood just before Christmas in which Midge Frazel transcribed a relative's narrative about the Barber Family. Included was her great-grandfather James Albert Barber, who was in Battery G, First Rhode Island Light Artillery…
read the rest of this entry »