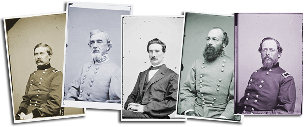 Update April 2012:  He's back.  Thank goodness!  Now subtitled Civil War Generals in Black and White, but with very similar layout and still at the address generalsandbrevets.com.  Thank you,  Mikel.
____________
Original post of 30 Jan 2010, "Generalsandbrevets Gone":  As I'm sure you know by now, the excellent web gallery Generals of the American Civil War is offline. The site was a comprehensive online collection of photographs of very nearly every Confederate and Union General (about 1,000 individuals) – plus most of the 1,400 Federal officers who were made General by brevet. It had operated since 2001 as generalsandbrevets.com, and I remember it being up under another url for at least a couple of years before that.
When I first noticed the loss back in March 2009, I asked site owner and collector Mikel Uriguen about it by email. He could only tell me that he could no longer keep it going. I asked if I could help in any way. I also offered to host and maintain the site on his behalf, but have no further reply.
On the original site he wrote:
I'd like to introduce myself. My name is Mikel Uriguen and I live in Bilbao, a city in the Spanish Basque-Country. I'm a long-time enthusiast of the American Civil War. On this site I've tried to collect pictures of every general officer of the War. It's usually interesting to put a face with a name.

In another section of this site you'll also find the pictures of those officers appointed to brigadier or major general by brevet.

I realize that this type of site might be a little dull to some visitors. But we have to remember the real value of data-base sites: they assemble related material (in this case pictures) in an organized way and offer it to those who are interested.
He's absolutely right about the tremendous value of his online collection. For that reason, I'm having trouble simply accepting that it's gone. I think it's too useful to too many people to let it go extinct.
As an experiment in PHP programming I've prototyped a database-backed site that might reprise the concept of generalsandbrevets. I have excess capacity on my own server and I could make some time over the coming months to re-gather and index the photos and push them into the database. It wouldn't be difficult with a good picture "scraping" script – or help from online friends. Given that all the pictures he so carefully collected and posted are in the public domain, there's no legal reason I couldn't build another website home for these Generals' faces.
The problem, of course, is that it was Mikel's site – and his image collection – and he's chosen (or been forced) to take it down. The reasons are none of my business, and his privacy is key. I feel I've already intruded enough and don't want to badger him again.
So. What to do, what to do. Swoop in like some kind of vulture? Just let it drop?
Either of my readers have a thought?
There's a large and active group among students of the American Civil War fascinated with the service of Irishmen in the conflict, and with the Irish Brigade of the Army of the Potomac in particular. There's a vast amount of lore and legend on the subject, which I've only really noted in passing. I know … and with my surname, too.
So it is with some trepidation that I dig here into the life and passing of Patrick Phelan (Felan) Clooney. One of those heroes of the Irish Brigade at Antietam.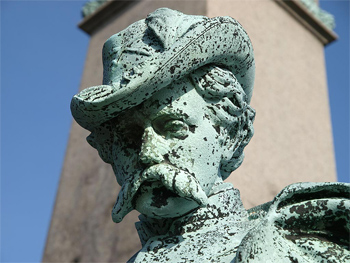 detail from the Soldiers Monument, Calvary Cemetery, Queens, NY (2009, biostheoretikos.com)
I am prompted by an effort underway to rescue a memorial to Clooney in his native Waterford. Thanks to James Doherty, who is fund- and awareness-raising, and Damian Shiels, who brought him to my attention…
read the rest of this entry »
Because he was conspicuous on his white horse and close to the battle-front on the morning of Wednesday, 17 September 1862 near Sharpsburg, Maryland, perhaps it was inevitable that Major General Joseph Hooker would be killed or wounded in the ferocious combat there.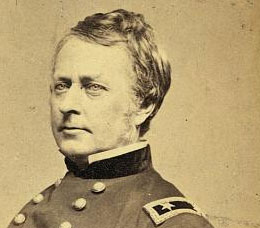 Major General Joseph Hooker (c. 1862, Library of Congress)
And wounded he was. Although it is fantasy to speculate, there were those who thought the battle of Antietam would have gone differently had Hooker not been knocked from command of the Federal First (I) Army Corps by a bullet through the foot at about nine o'clock that morning.
Sharpsburg, September 20, 1862.

MY DEAR HOOKER: I have been very sick the last few days, and just able to go where my presence was absolutely necessary, so I could not come to see you and thank you for what you did the other day, and express my intense regret and sympathy for your unfortunate wound. Had you not been wounded when you were, I believe the result of the battle would have been the entire destruction of the rebel army, for I know that, with you at its head, your corps would have kept on until it gained the main road. As a slight expression of what I think you merit. I have requested that the brigadier-general commission rendered vacant by Mansfield's death may be given to you. I will this evening write a private note to the President on the subject, and I am glad to assure you that, so far as I can learn, it is the universal feeling of the army that are the most deserving in it.

With the sincere hope that your health may soon be restored, so that you may again be with us in the field, I am, my dear general, your sincere friend,

GEO. B. McCLELLAN,
Major-General.
Looking into the nature of the General's injury led me in a somewhat different direction, however – toward learning about the medical care he received, and more about the life and career of his doctor, Assistant Surgeon Benjamin Douglas Howard, USA …
read the rest of this entry »