AotW Member Greg Walden has contributed the first new Featured Article for Antietam on the Web in many moons. It's a fascinating look at a small unit from Kentucky without a home until it joined forces with volunteer companies from Arkansas passing through Nashville on their way to Virginia in June 1861.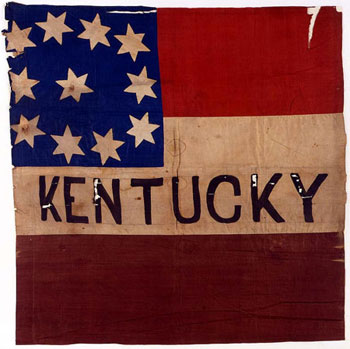 Confederate First National Flag (c. 1861, Museum of the Confederacy via G. Walden)
Greg introduces the subject by saying that [m]ost of the Southern states were represented by units in the Army of Northern Virginia at Sharpsburg, but Kentucky is not usually thought of as one of them.  However, a Kentucky unit was present at Sharpsburg; the only outfit from that state in Lee's army.
He explores the origins and personalities of the unit and their role in action  with the 3rd Arkansas Infantry at Sharpsburg on 17 September 1862.

I invite you to enjoy Kentuckians in Lee's Army at Sharpsburg: The Blackburn Guards now online in the Articles & Exhibits section of Antietam on the Web. Thanks Greg!
This is Assistant Surgeon Simon Baruch ('ba-rook') of the 3rd South Carolina Battalion. I found him by following a thread in a CW Society post, part of their recent conversation about Jewish Confederates. Among those prominent in that service it mentioned
… Nahum Baruch, the father of financier Bernard Baruch, was a doctor and Colonel in Barksdale's Mississippi Brigade. He was present at Gettysburg.
As is my wont, I saw the thread sticking out and gave it a yank. Who was this Nahum?
It turns out this Baruch was not Nahum, actually. Nor a Colonel, though he ended the War in Barksdale's famous Brigade. He did have a successful son, was a doctor, and was at Sharpsburg and that other northern battle, too. There's lots more to his story.
read the rest of this entry »
The fine folks at the Western Maryland Historical Library (WHILBR), on the occasion of the 150th Anniversary of the War, scanned and transcribed a large number of local newspaper pieces for the period 1861-65.  I've just picked up on four of these specific to soldiers who died in Hagerstown after Antietam in October, November, and December 1862.
Here's a sample, a clipping from the Hagerstown Herald of Freedom & Torch Light of 19 November 1862: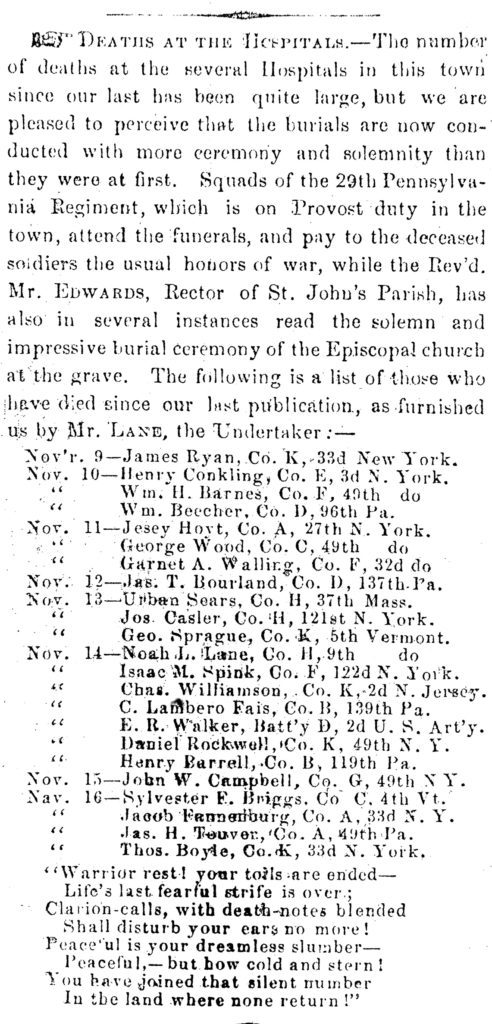 For some of these men, I only had known that they had died, but not where or when.  I've got some updating to do!
read the rest of this entry »