AotW Member Greg Walden has contributed the first new Featured Article for Antietam on the Web in many moons. It's a fascinating look at a small unit from Kentucky without a home until it joined forces with volunteer companies from Arkansas passing through Nashville on their way to Virginia in June 1861.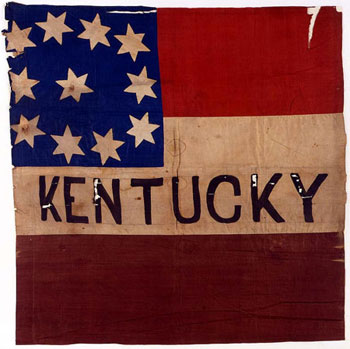 Confederate First National Flag (c. 1861, Museum of the Confederacy via G. Walden)
Greg introduces the subject by saying that [m]ost of the Southern states were represented by units in the Army of Northern Virginia at Sharpsburg, but Kentucky is not usually thought of as one of them.  However, a Kentucky unit was present at Sharpsburg; the only outfit from that state in Lee's army.
He explores the origins and personalities of the unit and their role in action  with the 3rd Arkansas Infantry at Sharpsburg on 17 September 1862.

I invite you to enjoy Kentuckians in Lee's Army at Sharpsburg: The Blackburn Guards now online in the Articles & Exhibits section of Antietam on the Web. Thanks Greg!
I have been busy with the business of life, but not entirely ignorant of the world outside! I certainly noticed the October 2010 announcement of the incredible generosity of the Liljenquist family who donated their collection of more than 700 Civil War ambrotypes and tintypes to the Library of Congress. The Library is creating a physical exhibit for them opening in April 2011 as part of the Sesquicentennial observations.
In the meantime, they've scanned and posted the collection online on their own pages and through a Flickr photostream.  I've explored this treasure a little, and found some intriguing images with connections to our favorite battlefield.

Woman wearing mourning brooch and displaying framed image of soldier (1861 – 1865, Library of Congress via Flickr)
I'm sorry that so few of the subjects of these pictures are identified.  Only a couple of dozen are named, another dozen or so are identified by military unit from clues on their uniforms or in the photo background.  The remaining hundreds are unidentified.
I am moved all the more, however, by the anonymity of this woman in her grief. I presume from the context that the soldier in her lap has recently been killed. Her husband? It reminds me again of the deadly way the War ripped through families and brings perspective to battle maps, memorials and markers …
read the rest of this entry »
The Henry Daily Herald reports Col C.T. Zachry's last home, a house in McDonough, Georgia, will be relocated to serve as visitor's center or museum at the Nash Farm site.
Zachry was Lieutenant Colonel of the 27th Georgia Infantry at Sharpsburg, where he succeeded to command of the regiment when Colonel Smith was killed in action.
The Nash Farm is noted as the site of the last action of the Atlanta Campaign of 1864.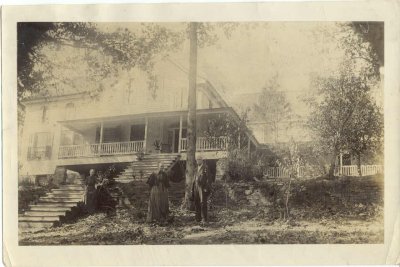 Col Zachry before his next-to-last house, "Peachstone", Henry County, GA
(photo from g-g-grandson Posey B. Howell)