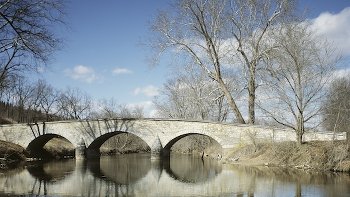 Antietam Battlefield's Burnside Bridge (between 1980-2006, by Carol Highsmith, Library of Congress)
The home page of Antietam on the Web is really just a simple table of contents decorated by a photograph taken on the battlefield. Since I did a major redesign/simplification of the site in 2010, I've used about half a dozen pictures to represent the place and the history of Antietam.  Here are their stories.
read the rest of this entry »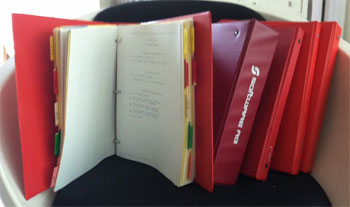 The number of people present on the Maryland Campaign of 1862 cannot be precisely known, but it must have been large. Ezra Carman estimated troops actually engaged on September 17th at about 85,000 (51,536 Union, 32,851 Confederate), with thousands in reserve and in support roles nearby. The armies' mustering strengths in the first week of September were as great as 85,000 and 65,000, respectively. Adding in the Federal garrisons at Martinsburg and Harpers Ferry, along with local and detached units along the railroad and Potomac River, I think there were something like 160,000 soldiers on the Campaign.
I'd like to know all their names, and get them listed on Antietam on the Web (AotW) so their families, researchers, and other interested people can find them. I can't possibly get them all, I know. No one could, but I'm working on it.
read the rest of this entry »
The end of an era.

Yahoo! GeoCities, our free web site building service and community,
is closing on October 26, 2009.
Your GeoCities site will no longer appear on the Web
After years of playing with Antietam battle information and biography on paper, then in spreadsheets and text files, I started putting it online in 1992. I had an email account with a community organization and a little FTP space on their server. The Gopher service was my friend.
When I learned about web browsing and hypertext, I saw before me the holy grail. Finally – an effective way to tie all the people and event threads together. I did a little poking about and found GeoCities' free hosting. The price was attractive, so I opened Antietam on the Web there in November 1996…
read the rest of this entry »