With a nudge from a record in the Frederick Patient List database, I went looking for 2nd Lieutenant J. Corfro of Company I, 1st North Carolina Infantry, only to find he probably never existed, despite his shiny new government-issue marker at Mt. Olivet Cemetery in Frederick, MD.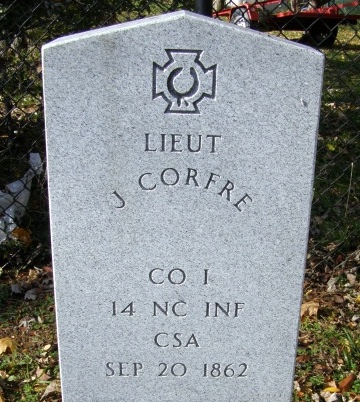 The Lieutenant lived only on paper, in Federal hospital and burial records, which have him admitted to a US Army hospital in Frederick in September 1862 and buried at Mt. Olivet after he died on the 20th.  He appears in no roster, muster roll, or other military record for the First North Carolina or any other military unit.
I believe he was actually Lieutenant William D. Scarborough, who, incidentally, has an equally nice stone at Mt. Olivet.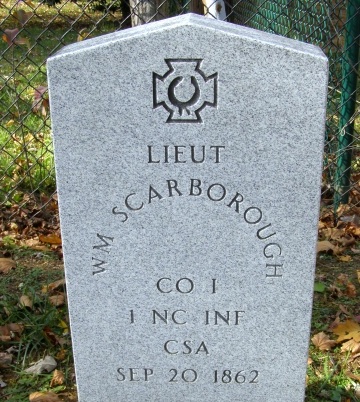 The bits of available information about Scarborough, recorded under many names including Corfro, are sometimes confusing and contradictory, but I think I have made some sense of them.  Follow along and see what you make of him …
read the rest of this entry »
In his diary after the battle of Antietam Private Julius Rabardy wrote:
The air is full of explosions and the smell of brimstone, missiles of all kinds strike the trees and dead branches fall among the wounded. I was shot through the right thigh. A poor fellow with uplifted arm begs for water. The arm is shot off and the man speaks no more. A Confederate lies in front of me with a horrible wound. It is Hell. I close my eyes. It is probably from loss of blood, sick at the sight of such carnage. I became unconscious. When I recovered all is quiet.
The regimental surgeon amputated his leg later that day. He was not yet 30 years old and it would seem his best years were now behind him …
read the rest of this entry »
Harley Tuttle McKay was a 27 year old shoemaker in 1861 when he left his wife and two year old son and enlisted in the Sons of '76 – Company H of the 26th Alabama Infantry regiment.
On 14 September 1862 near Turner's Gap on South Mountain he was seriously wounded in the leg by a "bombshell."  Soon afterward his leg was amputated and he was sent home to Marion County, Alabama on furlough. In April 1863 he was detailed from his Company to Columbus, Mississippi to use his skills as a shoemaker for the Confederacy. He was there for at least a year, but I have no further military information for him after April 1864.
After the war he was a shoemaker and farmer, and probably a preacher; in his native county to about 1880, then in Texas.  He lived to be 84 years old.
Although his life story is not especially noteworthy for a Civil War soldier, the way it became tangled with another McKay's after his death  is very interesting. And, for a researcher like myself, also very confusing. I'm not certain I've sorted it out, even now. See what you make of it …
The issues first jumped out at me through a couple of cemetery markers.
read the rest of this entry »