At the eleventh hour on the eleventh day of the eleventh month in the year 1918, the Great War ended under the terms of an armistice, a cease-fire agreement, signed at 5 o'clock that morning.
The most immediate requirement of the Armistice was the withdrawal of all German forces to the line of the Rhine River, which, along with "beachheads" on the east bank, was the part of Germany to be occupied by Allied troops. French, British, Belgian, and American.
One of about two million Americans of the American Expeditionary Forces (AEF) in France that day was 23 year old Joseph F. Downey from Scranton, Pennsylvania, my grandfather.
That lovely hand colored map, Territorial Terms of the Armistice, is among a stunning cache of papers he left us. They'll help me remember him and those millions of others on this centennial of the end of the First World War.
read the rest of this entry »
Adolphus Greely was only 18 years old but already a veteran of more than a year's Army service by the time he was wounded in the face in combat in or near the West Woods at Antietam on the morning of 17 September 1862. He was a Corporal in Company B, 19th Massachusetts Infantry.
Before the War he'd been working as a jeweler in Newburyport, Massachusetts, and was eager to find a bigger place in the world for himself. The Army gave him a chance to do just that.
Twenty years after Antietam he was leading a scientific observation team near the North Pole, and a year after that he was in very great danger of dying there …
read the rest of this entry »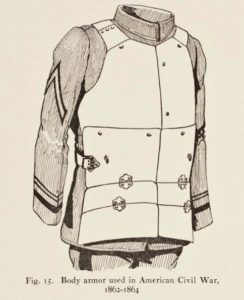 Lieutenant Nathaniel Wales' story at Antietam may be unique. It is certainly startling: he was saved from a fatal wound by wearing armor at the battle.
I've not previously found anything else like this associated with Antietam. Having little experience with the subject, then, I went off to find out something about body armor of the Civil War. As a bonus along the way, I also came upon a number of interesting characters and connections in Wales' family.
Our man was probably named for his 5x great-grandfather Nathaniel Wales (1586-1681), weaver, who arrived in Massachusetts from Yorkshire, England in 1635. He made the passage in the ship James out of Bristol with other pilgrims including the Reverend Richard Mather (1596-1669), father to Increase, grandfather of Cotton. Wales was later brother-in-law, by the second of his three wives, to Major General Humphrey Atherton. Wales' descendants were generally successful business people in Boston and nearby towns.
Our Nathaniel's father Thomas Crane Wales (1805-1880), 7 generations down the line, was prominent in the boot and shoe business, particularly in rubber overshoes and boots. He seems to have been a major player in that market for much of the 1840s and 50s. He had invented and patented a lined, waterproof cold weather boot he called the "Arctic", which was hugely popular and widely imitated. As a result, I expect young Nathaniel had the benefit of a well-to-do Boston upbringing and education.
He was a salesman in Dorchester when the Civil War began, and also belonged to a Boston militia company called the New England Guard. He was 18 years old when he enlisted as First Sergeant, Company G, 24th Massachusetts Infantry in September 1861. He looks to be a very self-possessed young man.
read the rest of this entry »