Lieutenant Evan Thomas commanded the consolidated Batteries A and C of the 4th United States Artillery on the Maryland Campaign.
He was the 3rd son of US Army Colonel and Adjutant General Lorenzo Thomas (USMA 1823), and at the start of the War in April 1861 received a commission as 2nd Lieutenant, 4th United States Artillery.  He was promoted to First Lieutenant in May. He was then just 17 years old.
He was assigned to Battery C which, due to a manpower shortage, was consolidated with Battery A in October 1861. He was in action with his battery on the Peninsula in mid-1862 and succeeded to command by order of seniority sometime after Captain Hazzard died of wounds in mid-August 1862. Evan had just celebrated his 19th birthday.
Here's Lieutenant Thomas with a group of his fellow officers taken at Sharpsburg in September or October 1862, shortly after the battle of Antietam: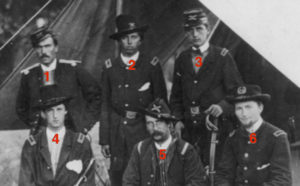 The caption on the picture is Lt. Rufus King, Lt. Alonzo Cushing, Lt. Evan Thomas and three other artillery officers in front of tent, Antietam, Md. (click to enlarge) There is no guide to who is who, but I have had some expert help working to identify them.
read the rest of this entry »
At the eleventh hour on the eleventh day of the eleventh month in the year 1918, the Great War ended under the terms of an armistice, a cease-fire agreement, signed at 5 o'clock that morning.
The most immediate requirement of the Armistice was the withdrawal of all German forces to the line of the Rhine River, which, along with "beachheads" on the east bank, was the part of Germany to be occupied by Allied troops. French, British, Belgian, and American.
One of about two million Americans of the American Expeditionary Forces (AEF) in France that day was 23 year old Joseph F. Downey from Scranton, Pennsylvania, my grandfather.
That lovely hand colored map, Territorial Terms of the Armistice, is among a stunning cache of papers he left us. They'll help me remember him and those millions of others on this centennial of the end of the First World War.
read the rest of this entry »
Adolphus Greely was only 18 years old but already a veteran of more than a year's Army service by the time he was wounded in the face in combat in or near the West Woods at Antietam on the morning of 17 September 1862. He was a Corporal in Company B, 19th Massachusetts Infantry.
Before the War he'd been working as a jeweler in Newburyport, Massachusetts, and was eager to find a bigger place in the world for himself. The Army gave him a chance to do just that.
Twenty years after Antietam he was leading a scientific observation team near the North Pole, and a year after that he was in very great danger of dying there …
read the rest of this entry »