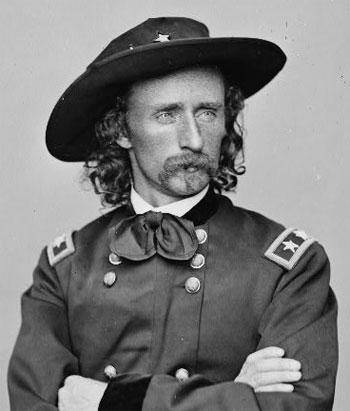 G.A. Custer (c. 1865, Library of Congress)
I've just been reading a brand-new edition of Dee Brown's Bury My Heart at Wounded Knee, out just last month from Sterling Publishing. It's a beautifully packaged and illustrated version of the landmark 1970 work, which looks at the West from 1860-90. I recommend it highly.
While the main point of the book is the Indian experience, of course, some of the prominent actors in the story jump out at me because they were also veterans of the Battle of Antietam. Which is a good excuse to find some post-War photos of a half-dozen of these men and catch up a little with their later careers …
read the rest of this entry »
There are half a dozen unfinished posts waiting in the queue for this (very occasional) blog, but I am prompted to actually publish one at last by some fascinating email correspondence from Marianne Tierney, whose great-great-grandfather John Westbrook you see here. Marianne and her cousin Art Van Allsburg have collected and have shared some family treasures concerning their ancestor and Antietam.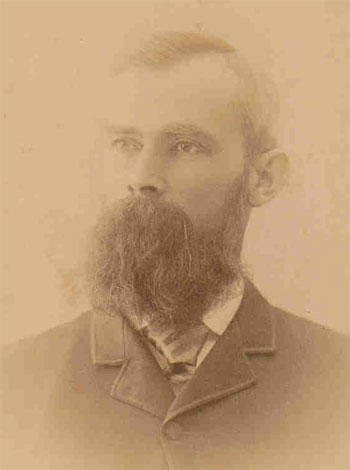 John Westbrook (postwar, courtesy M. Tierney)
This photograph is magnificent, but more exciting is a letter written by Marianne' s grandfather Van Allsburg in 1964 which recalls what he heard from his grandfather Westbrook firsthand. With it, and some other tidbits I've dug up, we can follow something of this soldier's life through and following the catastrophic Battle of Antietam …
read the rest of this entry »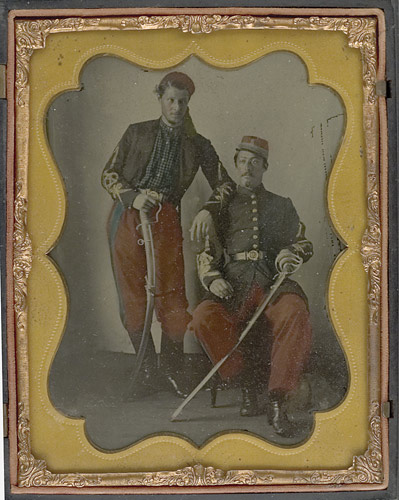 M.A. and G.A.G. Coppens (1861, from Cowan's Auctions)
This stunning piece is a rare image of two Louisiana Zouaves, one of whom was killed in action at Sharpsburg. It is among a trove of pictures of "my boys" I've harvested from the web in the last few days – thanks to Cowan's, Heritage, and Museum Quality Americana auction houses.
I've ranted in the past about our history disappearing into the hands of private collectors (and it's still a shame this stuff isn't in public repositories), but I'm mostly reconciled to that. As long as firms like Cowan's continue to make their archives of past sales available on the web, I think they're acting in some ways as digital museums – and doing us a great service.
I'll be pushing more than 20 of these new-to-me images of Antietam/Sharpsburg participants to AotW over the next few days. Among some of the most compelling is the lovely tinted half-plate ambrotype above, along with a crisp CDV and a mustering-out group photograph below …
read the rest of this entry »