Because he was conspicuous on his white horse and close to the battle-front on the morning of Wednesday, 17 September 1862 near Sharpsburg, Maryland, perhaps it was inevitable that Major General Joseph Hooker would be killed or wounded in the ferocious combat there.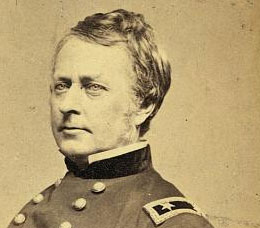 Major General Joseph Hooker (c. 1862, Library of Congress)
And wounded he was. Although it is fantasy to speculate, there were those who thought the battle of Antietam would have gone differently had Hooker not been knocked from command of the Federal First (I) Army Corps by a bullet through the foot at about nine o'clock that morning.
Sharpsburg, September 20, 1862.

MY DEAR HOOKER: I have been very sick the last few days, and just able to go where my presence was absolutely necessary, so I could not come to see you and thank you for what you did the other day, and express my intense regret and sympathy for your unfortunate wound. Had you not been wounded when you were, I believe the result of the battle would have been the entire destruction of the rebel army, for I know that, with you at its head, your corps would have kept on until it gained the main road. As a slight expression of what I think you merit. I have requested that the brigadier-general commission rendered vacant by Mansfield's death may be given to you. I will this evening write a private note to the President on the subject, and I am glad to assure you that, so far as I can learn, it is the universal feeling of the army that are the most deserving in it.

With the sincere hope that your health may soon be restored, so that you may again be with us in the field, I am, my dear general, your sincere friend,

GEO. B. McCLELLAN,
Major-General.
Looking into the nature of the General's injury led me in a somewhat different direction, however – toward learning about the medical care he received, and more about the life and career of his doctor, Assistant Surgeon Benjamin Douglas Howard, USA …
read the rest of this entry »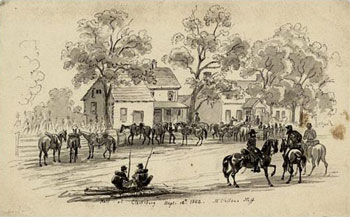 Halt at Clarksburg, Sept 12th 1862, McClellan's Staff (DH Strother, 1862)
David Hunter Strother (1816 – 1888) – writer, artist and Federal officer – was on General George McClellan's staff on the Maryland Campaign of 1862. His creative skills resulted is some fascinating artifacts of that period, which I'm enjoying in my study of Antietam and its participants.
Born in Martinsburg, (now West) Virginia, he had trained as an artist in New York and Europe, and was working as a writer and illustrator in books and magazines in his 20's. His father "Colonel" John – an Army Lieutenant 1813 to 1815 – ran the Strother House hotel in Berkeley Springs.
By the 1850's D.H. was famous as "Porte Crayon" – his nom de plume. He was on assignment for Harpers Weekly at Harpers Ferry in 1859 and covered John Brown's trial and execution …
read the rest of this entry »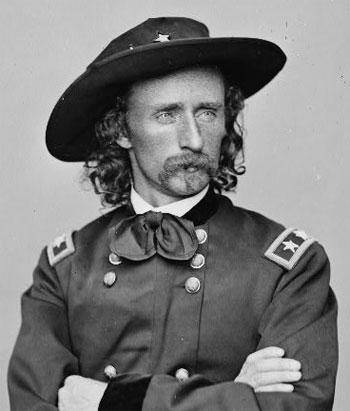 G.A. Custer (c. 1865, Library of Congress)
I've just been reading a brand-new edition of Dee Brown's Bury My Heart at Wounded Knee, out just last month from Sterling Publishing. It's a beautifully packaged and illustrated version of the landmark 1970 work, which looks at the West from 1860-90. I recommend it highly.
While the main point of the book is the Indian experience, of course, some of the prominent actors in the story jump out at me because they were also veterans of the Battle of Antietam. Which is a good excuse to find some post-War photos of a half-dozen of these men and catch up a little with their later careers …
read the rest of this entry »