The fine folks at the Western Maryland Historical Library (WHILBR), on the occasion of the 150th Anniversary of the War, scanned and transcribed a large number of local newspaper pieces for the period 1861-65.  I've just picked up on four of these specific to soldiers who died in Hagerstown after Antietam in October, November, and December 1862.
Here's a sample, a clipping from the Hagerstown Herald of Freedom & Torch Light of 19 November 1862: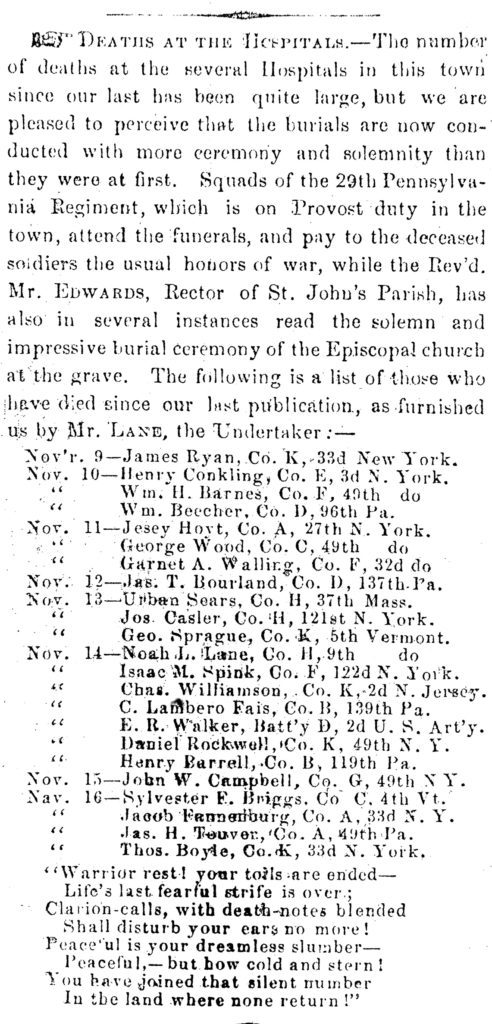 For some of these men, I only had known that they had died, but not where or when.  I've got some updating to do!
read the rest of this entry »
[last update 10 March 2019]
Attached to this post is my first feeble attempt at a list of individual soldiers who died on the Maryland Campaign of 1862 – those killed or mortally wounded in action, or otherwise died as a result of their presence there. As far as I know there is no single, comprehensive list anywhere. This one is a start.
I have been motivated in part by the upcoming memorial reading of the names of the Dead of Antietam at the Antietam National Cemetery on Sunday, September 16.  ANB Ranger Alann Schmidt  is leading the effort, and put out a call for names to add to the lists of local burials he already has available (National Cemetery, Rose Hill,  Mt Olivet, and Elmwood).  I hope to be able to contribute some others.
The following nicely summarizes what we're up against here, though. It's from the folks at the Western Maryland Regional Library:
According to the Antietam National Battlefield website 2,100 Union solders were killed, 9,550 were wounded, and 750 were listed as missing or captured. Of the Confederate soldiers, 1,550 were killed, 7,750 were wounded and 1,020 missing or captured. The number of men who died of their wounds or the number of missing who had been killed is not known. A conservative estimate of 20% of the wounded dying of their wounds and 30% of the missing killed gives an approximate number of soldiers who died as a result of this battle at 7,640.
This doesn't even consider the hundreds who died in other action and of other causes during the Campaign – on South Mountain, at Harpers Ferry, at Shepherdstown, and in all the skirmishes in between.
The initial list contained a little over 2,700 names – less than 1/3 of those who died.  I'm adding names to my database all the time, though, so the list will grow, and I will post new editions here periodically.   As of March 2019 it contains 6,305 names.
_______________________
The Current List

  [PDF 1.5M] Cover

  [PDF 52K] Introduction/Guide

  [PDF 1.6 MB] The Dead List (6305 names, alphabetical by State)  v9.0  10 March 2019

  [PDF 1.6 MB] The Dead List (6305 names, alphabetical by last name)  v9.0  10 March 2019
_______________________
Older Files

  [PDF 1.4 MB] The Dead List (5362 names, alphabetical by State)  v8.0  1 September 2018

  [PDF 1.4 MB] The Dead List (5362 names, alphabetical by last name)  v8.0  1 September 2018

  [PDF 1.4 MB] The Dead List (5231 names, alphabetical by State)  v7.0 12 January 2018

  [PDF 1.4 MB] The Dead List (5231 names, alphabetical by last name)  v7.0 12 January 2018

  [PDF 1 MB] The Dead List (4872 names)  v6.0 8 March 2015

  [PDF 713K] The Dead List (4386 names)  v5.0 24 March 2013

[PDF 536K] The Dead List (3688 names) v4.0 6 January 2013

[PDF 484K] The Dead List (3316 names) v3.0 21 October 2012

[PDF 472K] The Dead List (3016 names) v2.0 9 September 2012

[PDF 472K] The Dead List (2722 names) v1.0 24 August 2012
_______________________
Notes
The iconic photograph here is by Alexander Gardner. He took it on September 19th or 20th, 1862 on the battlefield at Antietam, and titled it "A Lonely Grave". Bill Frassanito did some masterful research for his book and identified the grave in question as that of Private John Marshall of the 28th Pennsylvania Infantry. I got my copy of the photograph from the Library of Congress.
The quote above from the Western Maryland Regional Library is on their fine WHILBR site in a page about Confederate burials on the campaign.
Because he was conspicuous on his white horse and close to the battle-front on the morning of Wednesday, 17 September 1862 near Sharpsburg, Maryland, perhaps it was inevitable that Major General Joseph Hooker would be killed or wounded in the ferocious combat there.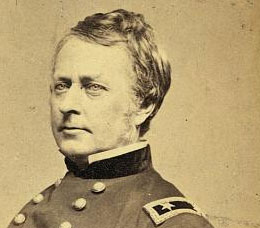 Major General Joseph Hooker (c. 1862, Library of Congress)
And wounded he was. Although it is fantasy to speculate, there were those who thought the battle of Antietam would have gone differently had Hooker not been knocked from command of the Federal First (I) Army Corps by a bullet through the foot at about nine o'clock that morning.
Sharpsburg, September 20, 1862.

MY DEAR HOOKER: I have been very sick the last few days, and just able to go where my presence was absolutely necessary, so I could not come to see you and thank you for what you did the other day, and express my intense regret and sympathy for your unfortunate wound. Had you not been wounded when you were, I believe the result of the battle would have been the entire destruction of the rebel army, for I know that, with you at its head, your corps would have kept on until it gained the main road. As a slight expression of what I think you merit. I have requested that the brigadier-general commission rendered vacant by Mansfield's death may be given to you. I will this evening write a private note to the President on the subject, and I am glad to assure you that, so far as I can learn, it is the universal feeling of the army that are the most deserving in it.

With the sincere hope that your health may soon be restored, so that you may again be with us in the field, I am, my dear general, your sincere friend,

GEO. B. McCLELLAN,
Major-General.
Looking into the nature of the General's injury led me in a somewhat different direction, however – toward learning about the medical care he received, and more about the life and career of his doctor, Assistant Surgeon Benjamin Douglas Howard, USA …
read the rest of this entry »