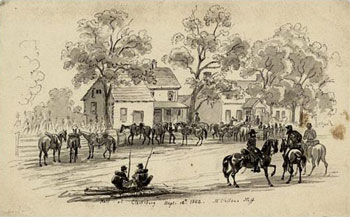 Halt at Clarksburg, Sept 12th 1862, McClellan's Staff (DH Strother, 1862)
David Hunter Strother (1816 – 1888) – writer, artist and Federal officer – was on General George McClellan's staff on the Maryland Campaign of 1862. His creative skills resulted is some fascinating artifacts of that period, which I'm enjoying in my study of Antietam and its participants.
Born in Martinsburg, (now West) Virginia, he had trained as an artist in New York and Europe, and was working as a writer and illustrator in books and magazines in his 20's. His father "Colonel" John – an Army Lieutenant 1813 to 1815 – ran the Strother House hotel in Berkeley Springs.
By the 1850's D.H. was famous as "Porte Crayon" – his nom de plume. He was on assignment for Harpers Weekly at Harpers Ferry in 1859 and covered John Brown's trial and execution …
read the rest of this entry »
There are half a dozen unfinished posts waiting in the queue for this (very occasional) blog, but I am prompted to actually publish one at last by some fascinating email correspondence from Marianne Tierney, whose great-great-grandfather John Westbrook you see here. Marianne and her cousin Art Van Allsburg have collected and have shared some family treasures concerning their ancestor and Antietam.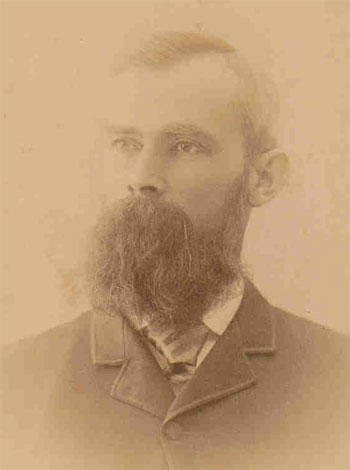 John Westbrook (postwar, courtesy M. Tierney)
This photograph is magnificent, but more exciting is a letter written by Marianne' s grandfather Van Allsburg in 1964 which recalls what he heard from his grandfather Westbrook firsthand. With it, and some other tidbits I've dug up, we can follow something of this soldier's life through and following the catastrophic Battle of Antietam …
read the rest of this entry »
Officers of the US Regular Army units present on the Maryland Campaign of 1862 have a staunch advocate in one of our loyal readers. He has been poking me to make up for obvious deficiencies in my understanding of those present, as seen in the Antietam on the Web database.


Officers of the 14th US Inf. camp near Alexandria, Va., March 1862 (USAMHI, T. Reese)
In addition to providing additional details for some of the officers we do cover on AotW, he's also challenged me to add a number of men not yet listed. I fear I am not doing this fast enough to suit, but have had a rewarding weekend doing further research on the Regulars at Antietam and these new candidates of interest …
read the rest of this entry »