Frank Schell accompanied the Army of the Potomac on the Maryland Campaign of 1862, and was on the field for the battle on 17 September. He was a civilian there from New York – a sketch artist for Frank Leslie's Illustrated Newspaper.
Fortunately for those who study the battle, a number of his original battlefield sketches have survived. I've recently discovered a set sold at auction in 2007, and a group preserved in a collection at Boston College, in particular. I've grabbed some selected gems among them to use here.
Even better, in 1904 Schell published his recollection of the events that were going on around him as he was drawing these same pictures. So in sharing his pictures and his superb eye, I can also leave the writing to Frank – to narrate his own drawings and give us a sense of his Battle of Antietam.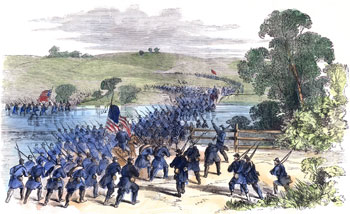 Hooker's Corps crosses the Antietam (16 September 1862, pub. Leslie's 11 Oct 1862)
As I awoke soon after daylight on the morning of September 17, 1862, the air was already vibrating with mighty sounds of battle … With spirits aflame, I speeded at my best from Keedysville for the headquarters of the commanding general … I joined the group about the commanding general, who was anxiously scanning through his field glass the situation to the right, across the Antietam. Looking more to the left, the thick west wood, with its dark, broad front so clearly emphasized by the little white Dunker church, was clearly in view along its entire extent upon the Hagerstown turnpike.
General McClellan suddenly lowered his glass, and, with a few animated words and expressive gestures, called Porter's attention to something that caused an immediate ferment of buzzing excitement throughout the group and a close scrutinizing of the bit of woodland, for the time being, the focus of such absorbing interest …
read the rest of this entry »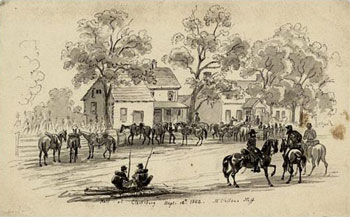 Halt at Clarksburg, Sept 12th 1862, McClellan's Staff (DH Strother, 1862)
David Hunter Strother (1816 – 1888) – writer, artist and Federal officer – was on General George McClellan's staff on the Maryland Campaign of 1862. His creative skills resulted is some fascinating artifacts of that period, which I'm enjoying in my study of Antietam and its participants.
Born in Martinsburg, (now West) Virginia, he had trained as an artist in New York and Europe, and was working as a writer and illustrator in books and magazines in his 20's. His father "Colonel" John – an Army Lieutenant 1813 to 1815 – ran the Strother House hotel in Berkeley Springs.
By the 1850's D.H. was famous as "Porte Crayon" – his nom de plume. He was on assignment for Harpers Weekly at Harpers Ferry in 1859 and covered John Brown's trial and execution …
read the rest of this entry »
There are half a dozen unfinished posts waiting in the queue for this (very occasional) blog, but I am prompted to actually publish one at last by some fascinating email correspondence from Marianne Tierney, whose great-great-grandfather John Westbrook you see here. Marianne and her cousin Art Van Allsburg have collected and have shared some family treasures concerning their ancestor and Antietam.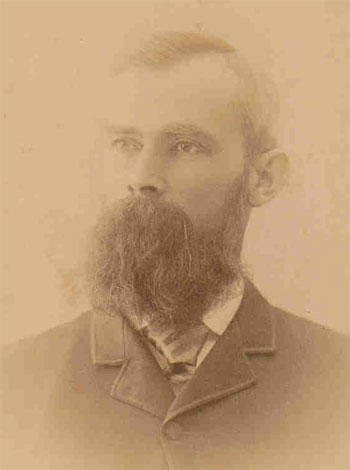 John Westbrook (postwar, courtesy M. Tierney)
This photograph is magnificent, but more exciting is a letter written by Marianne' s grandfather Van Allsburg in 1964 which recalls what he heard from his grandfather Westbrook firsthand. With it, and some other tidbits I've dug up, we can follow something of this soldier's life through and following the catastrophic Battle of Antietam …
read the rest of this entry »