The map above is centered on the eastern part of the Miller Cornfield near the East Woods at Sharpsburg on the morning of 17 September 1862. There has been heavy fighting here since dawn and, along with other regiments in action, the 6th Georgia Infantry has been nearly wiped out. It is between 8 and 9 in the morning.
Stephen Sears, in his classic Antietam book Landscape Turned Red (1983), wrote this dramatic vignette of that time and place:
Private B. H. Witcher of the 6th Georgia urged a comrade to stand fast with him, pointing to the neatly aligned ranks still lying to their right and left. They were all dead men, his companion yelled at him, and to prove it he fired a shot into a man on the ground a few yards away; the body did not twitch. Private Witcher was convinced and joined the retreat. 
Over the years since I first read it, I had forgotten Benjamin Witcher's name, but not that story. Who could forget that imagery? Even in combat, the shock of shooting into one of your own mess-mates would have been horrendous.
At least three other well-known books on the battle have used this anecdote, too, citing Landscape as their source. If you've read any of the basic literature, then, you will have seen it, and you'd remember.
But I've just found it isn't true. It didn't happen that way.
read the rest of this entry »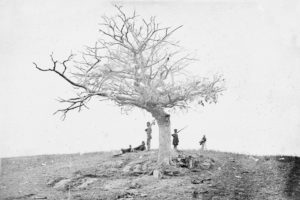 I've been pushing hard the last few months to get more soldiers into the database on AotW, focusing particularly on those who died on the Campaign.
As a result I've posted an update to the list of The Dead of the Maryland Campaign of 1862. It's now up to just over 6,300 people –  out of the more than 7,600 who died.
There's so much more to do, but this is a good jump from the previous edition.
Pages for those individuals and thousands more are available on AotW, of course, if you want to see more about them …
I've found a fascinating description of the Smoketown Hospital as it was in January 1863 in a letter to an Indiana newspaper. I came upon it while looking into one of the many soldiers of the 27th Indiana Infantry wounded at Antietam, Private Thomas Mitchell Gaskins.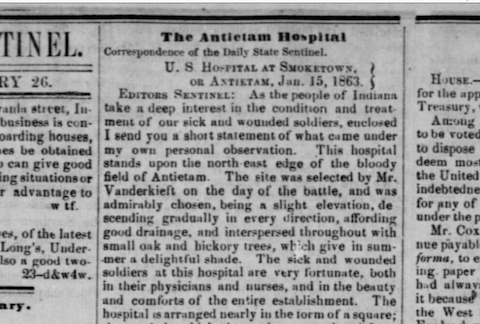 The writer lists some of the patients, like Gaskins, and their status, which is immediately useful, but his description of the hospital facilities and staff are the most interesting pieces to me.   
Here's my transcription of the complete letter as published:
U.S. Hospital at Smoketown,
or Antietam, Jan. 15, 1863

Editors Sentinel:   As the people of Indiana take a deep interest in the condition and treatment of our sick and wounded soldiers, enclosed I send you a short statement of what came under my own personal observation. 

read the rest of this entry »