Frank Schell accompanied the Army of the Potomac on the Maryland Campaign of 1862, and was on the field for the battle on 17 September. He was a civilian there from New York – a sketch artist for Frank Leslie's Illustrated Newspaper.
Fortunately for those who study the battle, a number of his original battlefield sketches have survived. I've recently discovered a set sold at auction in 2007, and a group preserved in a collection at Boston College, in particular. I've grabbed some selected gems among them to use here.
Even better, in 1904 Schell published his recollection of the events that were going on around him as he was drawing these same pictures. So in sharing his pictures and his superb eye, I can also leave the writing to Frank – to narrate his own drawings and give us a sense of his Battle of Antietam.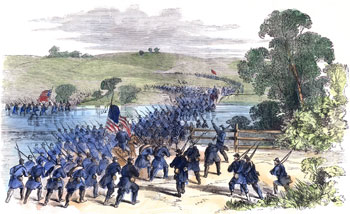 Hooker's Corps crosses the Antietam (16 September 1862, pub. Leslie's 11 Oct 1862)
As I awoke soon after daylight on the morning of September 17, 1862, the air was already vibrating with mighty sounds of battle … With spirits aflame, I speeded at my best from Keedysville for the headquarters of the commanding general … I joined the group about the commanding general, who was anxiously scanning through his field glass the situation to the right, across the Antietam. Looking more to the left, the thick west wood, with its dark, broad front so clearly emphasized by the little white Dunker church, was clearly in view along its entire extent upon the Hagerstown turnpike.
General McClellan suddenly lowered his glass, and, with a few animated words and expressive gestures, called Porter's attention to something that caused an immediate ferment of buzzing excitement throughout the group and a close scrutinizing of the bit of woodland, for the time being, the focus of such absorbing interest …
read the rest of this entry »
An excellent companion to Moore's Roster for researching North Carolina troops is the 5 Volume Histories of the Several Regiments and Battalions from North Carolina in the Great War, 1861-1865, published by the State of North Carolina in 1901. Editor Walter Clark was Adjutant of the 35th Regiment at Sharpsburg, and later Lieutenant Colonel of the 70th Regiment.
All NC military units – along with an array of related subjects – are represented in one or more articles, and each piece is written by a veteran who served in the regiment, battalion, or battery. Their works range from brief essays to fairly sophisticated unit histories. As a bonus, most include selections of war-period photographs of officers and men. There are hundreds of faces altogether across the volumes.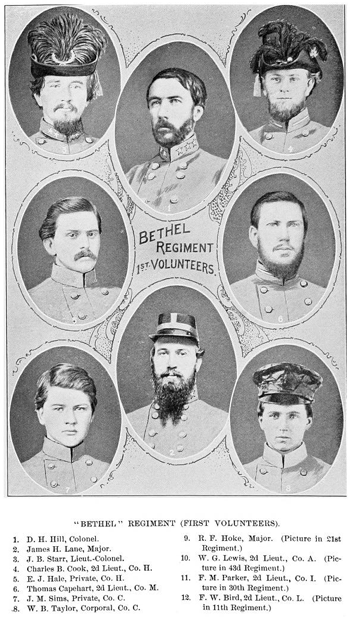 These volumes are available online from both GoogleBooks and the Internet Archive (IA) Collection. I like the IA image quality and paging interface best, so a hyperlinked table of contents (hyperTOC) for that online edition follows …
read the rest of this entry »
I've been on a fruitful run over the last couple of weeks looking into North Carolina soldiers who were at the battle of Sharpsburg. It began with the following haunting photograph from the Time-Life Voices volume on the battle of Fredericksburg …

W.B. Whitaker (Time-Life's Voices: Fredericksburg, courtesy Frances Honeycutt)
He's First Sergeant – later Captain – William Benjamin Whitaker of Henderson County, North Carolina. Last week saw the anniversary of his death at Fredericksburg, Virginia in 1862. He'd enlisted in Company I of the 16th Infantry in May 1861 and was promoted Captain in April 1862.
Looking into him, I found two extensive works online about North Carolina State Troops in the War. I'll assemble hyperlinked tables of contents (hyperTOCs) for each to save a little time on future research.
First – in this post – an old standby reference work: Moore's Roster. Next time, Walter Clark's Histories of the Several Regiments and Battalions…
read the rest of this entry »