I started a discussion forum/group on Yahoo in April 2001 called TalkAntietam. While never a high volume operation, it has been a place for a wide range of experts and enthusiasts to share information about the battle.
It's probably not a big deal, as most people now use social and other media rather than email for this kind of discussion, but it's a little sad that the group is going away.
While looking into the cavalry action at Quebec Schoolhouse (near Middletown, MD 13 Sept 1862) and some men of the regiment, I noticed this plaque for the 3rd Indiana Cavalry on their monument on the Antietam Battlefield.
I'm sure this is news only to me, but it turns out that half of the regiment – the East "wing" or battalion – was with the Army of the Potomac and at Antietam. It consisted of Companies A through F and was commanded by Major George Chapman.
The West wing (Cos. G,H, I, & K) was in the Army of the Ohio and was in the vicinity of Perryville, KY in the fall of 1862, then under the command of Lieutenant Colonel Jacob Buchanan.
I think Major Chapman's name should have been on that monument instead of Colonel Buchanan's. What do you think?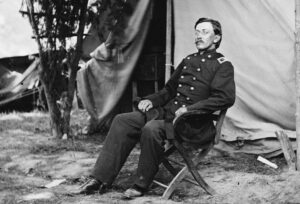 _______
The 3rd Indiana Cavalry monument is online from the Antietam National Battlefield Park.
The 1863-64 photograph of (then) Colonel Chapman is from the Library of Congress.
James McVay was an "old man" in the 14th Connecticut Infantry. He had enlisted as a Private in Company K with his sons Michael and Francis in July 1862.  He died of "exhaustion" at the end of the regiment's first day's march on what became the Maryland Campaign.
His was the first death in that brand new regiment.
His name's on a familiar looking monument in Norwich, CT.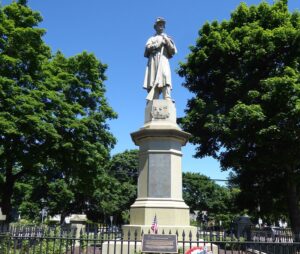 ___________
Notes
The clip above is from Charles D. Page's History of the Fourteenth Regiment, Connecticut Vol. Infantry (1906).
The picture of the Soldiers' Monument in Norwich, CT is online from Waymarking.  You'll notice the statue's similarity to "Old Simon" in the Antietam National Cemetery.