On our most recent trip to the battlefield we walked part of the West Woods Trail, mostly to see the most unique monument on the battlefield – that for the 15th Massachusetts Volunteer Infantry. One of my favorites.
There's been a lot of interest in this lion online lately, at least in the places I go, but nothing about its maker. I was inspired to look into the sculptor by the "signature block" he left on the slab under the lion's left front paw.
read the rest of this entry »
I greatly enjoyed a rainy afternoon last Thursday in Sharpsburg, spending part of it at the Antietam National Cemetery.  I'm working on a project tracing the history and evolution of the Antietam National Battlefield, and the Cemetery, created shortly before the Battlefield was established, is a big part of that story.
But it is also a beautiful place in its own right, so I hope neither of my readers will object if I hit some highlights.
read the rest of this entry »
On the return leg of an excursion north to visit family and friends, we made a stop at the Battlefield last Sunday. It was a glorious day, as is so often the case there, and perfect for catching up on some of the changes at the Park.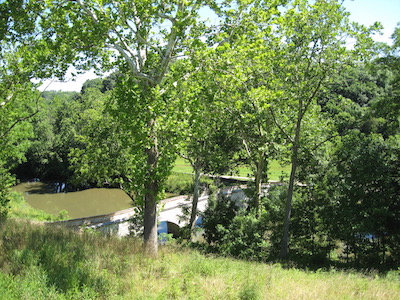 First stop after checking in at the Visitor's Center was the recently restored Lower (Burnside's) Bridge.

read the rest of this entry »