One of the most moving experiences you can have anywhere is driving through the battlefield during the annual Antietam Memorial Illumination. This year the tradition returns on Saturday, December 5th to the Antietam National Battlefield, Sharpsburg, Maryland.
On that evening, volunteers will light over 23,000 luminaries – candles in small paper bags – distributed across the Park to represent each of the soldiers who were casualties on that ground on 17 September 1862.
New AotW member Tim Dicke has sent us some of his photographs from last year's event. It can be tricky to capture any kind of image of those little flickering lights, but Tim has done a fine job of illustrating something of what it's like at the Illumination.
read the rest of this entry »
Saturday was another great day to be at the Antietam National Battlefield Park.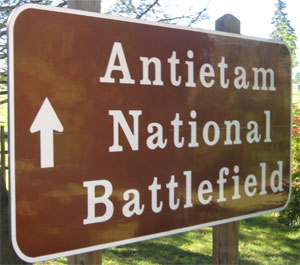 It began early for me with an uneventful drive up the National Pike route, and a SHAF meeting in Keedysville which introduced promise of more website improvements and some exciting initiatives for the organization for the near future.
After a photo-op at the battlefield Visitor Center and a low-fat gourmet lunch at the Battleview, I walked the newish Bloody Lane Trail with Craig Swain. Craig is a former Armor Officer and an excellent companion in the field. Thanks Craig!
As I always find when walking a part of the field I hadn't seen before, the new perspective brought me an entirely different appreciation of the history of the place. And some new views that I enjoyed for their own sake…
read the rest of this entry »
It's below freezing and we've seen snow flurries here in Northern Virginia. A good time to burrow in and wish for Spring. Or at least for warmer battlefield tramping weather.
I am inspired to plan some serious hikes by the news that the new Three Farms Trail is open at Antietam National Battlefield. Roulette, Newcomer (below), and Sherrick, are the three, I'd guess. This new path ties together a network of 9 trails which covers much of the battlefield terrain which saw combat 17 September 1862.
So, with a goal to follow all of the trails and tramp the whole battlefield in a season, I'm wondering what would be the best way to do it? I'll take a shot at a plan over the next few weeks … who's with me?
read the rest of this entry »