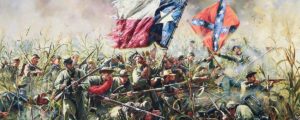 Lone Star by Don Troiani
(The 1st Texas Infantry in the Cornfield at Sharpsburg)
I've recently been catching up on Confederate staff officers who were at Sharpsburg, those serving Division and Brigade commanders .  One of the ways I find them by is rummaging through after-action reports. Over the last couple of days I've been sorting through that of Brigadier General John Bell Hood for the period 22 August to 17 September 1862.  He writes about quite a number of his officers, but down toward the bottom, he thanks and lists his couriers.
That's something out of the ordinary, and it pulled me off the staff officer track to look into them.
Commonly known as mounted couriers, these men were also often Hood's scouts, as well. Scouts which, in at least one case, could be hard to tell from spies.
read the rest of this entry »
On May 25th Damian Shiels gave a talk in Waterford, and today kindly shared the audio/slideshow of it on his website, Irish in the American Civil War.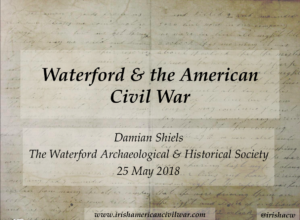 Although mostly specific to Waterford & the American Civil War, the first 20 minutes contain a terrific, clear and concise overview of the role of the Irish in the ACW (and the War itself) generally.
The rest of the the talk is also superb, as Damian discusses his use of the extensive US federal pension data to learn about the life experiences of Irish veterans and their families in Ireland.  It is well worth your time!
At the very end of his life, in combat on the open ground south of the Miller Cornfield at Sharpsburg, John S. Taylor was entirely fearless ...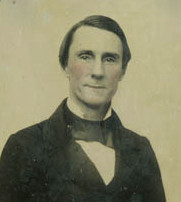 J.S. Taylor  c. 1845
He was born in Norfolk, Virginia in 1820 to a family with a tradition of military service. His grandfather John Saunders had been a US Army Major General, and his great-grandfather Celey Saunders commanded the Virginia State Navy ship Thetis (1778) in the Revolution.
He began his own career in December 1836, then 16 years old, when he joined the US Navy.
read the rest of this entry »