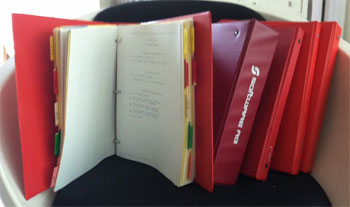 The number of people present on the Maryland Campaign of 1862 cannot be precisely known, but it must have been large. Ezra Carman estimated troops actually engaged on September 17th at about 85,000 (51,536 Union, 32,851 Confederate), with thousands in reserve and in support roles nearby. The armies' mustering strengths in the first week of September were as great as 85,000 and 65,000, respectively. Adding in the Federal garrisons at Martinsburg and Harpers Ferry, along with local and detached units along the railroad and Potomac River, I think there were something like 160,000 soldiers on the Campaign.
I'd like to know all their names, and get them listed on Antietam on the Web (AotW) so their families, researchers, and other interested people can find them. I can't possibly get them all, I know. No one could, but I'm working on it.
read the rest of this entry »
There's a large and active group among students of the American Civil War fascinated with the service of Irishmen in the conflict, and with the Irish Brigade of the Army of the Potomac in particular. There's a vast amount of lore and legend on the subject, which I've only really noted in passing. I know … and with my surname, too.
So it is with some trepidation that I dig here into the life and passing of Patrick Phelan (Felan) Clooney. One of those heroes of the Irish Brigade at Antietam.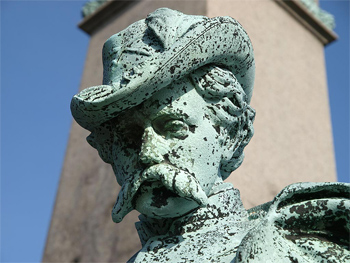 detail from the Soldiers Monument, Calvary Cemetery, Queens, NY (2009, biostheoretikos.com)
I am prompted by an effort underway to rescue a memorial to Clooney in his native Waterford. Thanks to James Doherty, who is fund- and awareness-raising, and Damian Shiels, who brought him to my attention…
read the rest of this entry »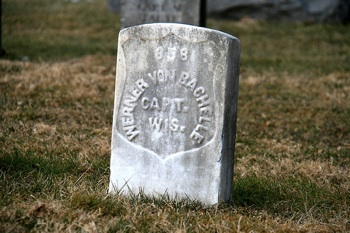 (Janet Richmond, via Flickr)
This is the stone at Antietam National Cemetery for Captain Werner von Bachelle, killed in action on 17 September 1862 at Antietam.  He's something of a celebrity today. School kids hear of him in their packets at the cemetery and battlefield. Though he died a brave soldier, like so many others that day, that's not why he's so well known. He owes his celebrity to his dog.
In April 1861 von Bachelle volunteered with his local militia, the Citizens Corps of Milwaukee, for service in response to President Lincoln's first call for troops.  In May the officers – Capt. William Lindwurm, 1st Lt. Frederick Schumacher, and 2nd Lt. Werner Von Bachelle – were commissioned in Federal service and their unit became Company F of the new 6th Regiment of Wisconsin Volunteer Infantry.  Like von Bachelle, nearly all of the men of the Company were German speakers, most German born …
read the rest of this entry »