I should be doing something else, but got pulled off track by a trooper of the 3rd Indiana Cavalry, James Williamson, who was killed in a little-known cavalry skirmish at the Quebec Schoolhouse near Middletown, MD on 13 September 1862.
His regiment's historian, former Corporal William N. Pickerill wrote a fascinating account of that 'desperate little cavalry battle' for a newspaper in 1897, and put it in his regimental History in 1906. Because of him, I've spent the last couple of days putting names and faces with some of the men who were there.
read the rest of this entry »
While looking into the cavalry action at Quebec Schoolhouse (near Middletown, MD 13 Sept 1862) and some men of the regiment, I noticed this plaque for the 3rd Indiana Cavalry on their monument on the Antietam Battlefield.
I'm sure this is news only to me, but it turns out that half of the regiment – the East "wing" or battalion – was with the Army of the Potomac and at Antietam. It consisted of Companies A through F and was commanded by Major George Chapman.
The West wing (Cos. G,H, I, & K) was in the Army of the Ohio and was in the vicinity of Perryville, KY in the fall of 1862, then under the command of Lieutenant Colonel Jacob Buchanan.
I think Major Chapman's name should have been on that monument instead of Colonel Buchanan's. What do you think?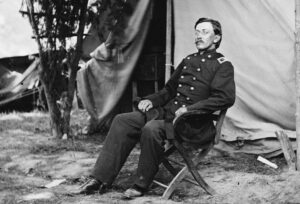 _______
The 3rd Indiana Cavalry monument is online from the Antietam National Battlefield Park.
The 1863-64 photograph of (then) Colonel Chapman is from the Library of Congress.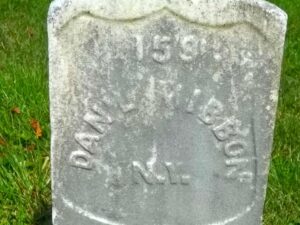 The Antietam Cemetery History has him as Daniel Mibbon, 18th New York Infantry (thanks Western Maryland's Historical Library/WHILBR!). It's Dan'l Mibbon, N.Y. on his stone.
Frederick hospital records list him as Daniel S. Milborne, 13th New York (thanks National Museum of Civil War Medicine!).
He doesn't appear in the rosters for either of those regiments or any other New York unit, for that matter (thanks New York State Military Museum!). Nothing close.
A little more digging, though, and voilà!!
Under or near this stone in the Antietam National Cemetery lies David Spencer Milburn, late Private, Company D, 13th New Jersey Infantry. A 26 year old farmer, he was mortally wounded on 17 September 1862 just over a month after enlisting. He died in a hospital in Frederick on 2 October.
I hope his descendants can still find him!