146 years to the day after the historical events, a lucky group of us tracked the unlucky 118th Pennsylvania Volunteers to the places and views of the Battle of Shepherdstown Ford (20 September 1862). Under the capable guidance of Dr Tom Clemens and members of the Shepherdstown Battlefield Preservation Association (SBPA), we waded the Potomac, scaled the heights, and walked the field.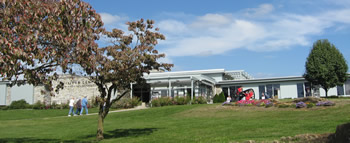 ANB Visitor's Center – a postcard perfect day
We gathered Saturday the 20th at the Antietam Visitor's Center, drove in convoy to the Dunleavy spread near Shepherdstown, WV, and then carpooled to the Chesapeake & Ohio (C&O) Canal Park [NPS site] back on the Maryland side of the Shepherdstown (Boteler's, Packhorse, Blackford's) Ford…
read the rest of this entry »
There was still plenty of daylight left as I was returning from Sharpsburg last weekend, so I took a rare detour from Alt-40 over to Fox's Gap.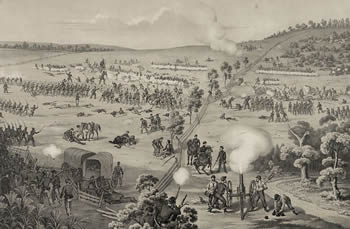 The glorious charge of the 23rd and 12th Ohio Volunteers …(1864, Library of Congress)
There are a pair of interpretive signs, two monuments, and a regimental tribute at the spot where the road crosses the Gap, noting the combat there on 14 September 1862. But that's all there is to see as one arrives.
There was no one else there when I pulled up. It was blessedly quiet. I took a couple of snapshots to bring some of the place home with me.

read the rest of this entry »
The sad story of the officers and men of the 12th Virginia Infantry Regiment of late 1862 is typical for a number of the tattered units of the Confederate Army of Northern Virginia (ANV) who were at Sharpsburg that September.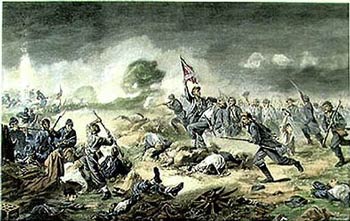 The Crater (c. 1866, J. Elder)
The Fourth Battalion as it left Petersburg on the 20th of April, 1861, was made up of the flower of the manhood of the Cockade City. After four years of service it had been so decimated by disease, by death, by promotion, and by transfer that it showed scarcely more than a skeleton of the original body. It was the nucleus upon which was formed the famous Twelfth Virginia Regiment, whose banner bore the device of almost every field on which the Army of Northern Virginia grappled with the enemy, from Seven Pines to Appomattox, and whose flag, stained with the smoke of battle and shredded by ball and shell, was never surrendered, but torn into slips and buried in the bosoms, right over the hearts, of the veteran survivors.
read the rest of this entry »