Being webmaster of Antietam on the Web has its challenges, but big rewards, too. Once of the greatest is the steady stream of correspondence I get from people all over the world who have pieces of the puzzle to share.
Just before stepping off the grid for vacation a couple of weeks back, I had a note from a delightful person in Arizona who's family owns the painted portrait you see here.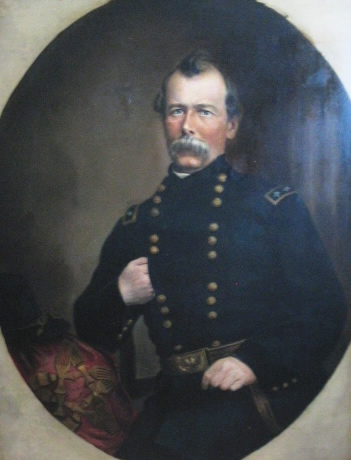 MGen Thomas C Devin, artist unknown; poss. Healy (c. 1870, courtesy of the owner)
This noble warrior is Thomas Casimer Devin (1822 – 1878), here in the uniform of Major General: the (honorary) rank he attained by brevet in March 1965 and by appointment in the US Volunteers after the War was over.
He was Colonel in command of the 6th New York Cavalry at the battle of Antietam in 1862, and led a detachment from his Regiment in that action, their first significant combat of the War.
We'll touch later on the battle of Five Forks for which he is celebrated here, but first let me skip ahead to the punchline of this post. Take a peek down in the bottom left corner of the picture and note the flag draped at Devin's right knee. Yes, those are actually dinner forks …

MGen Thomas C Devin, detail
The 5 forks in the shape of a star were painted on a silk flag presented to Devin and his Division after the battle of Five Forks by Major General Philip Sheridan, his commanding officer at that action.
On the Painting and the Artist
Our correspondent says:
… my parents bought it in St. Louis from a downtown art gallery, McCann & Burr (around 1958 or so). It is unsigned, but my best guess from the syle is George Peter Alexander Healy. There may be something under the frame, but we have never removed it to check …

It was exciting when I found the information about the flag online from the New York Times obituary of Gen. Devin. I wonder if the flag still exists somewhere.

The other neat thing that is so wonderful is the color that brings this time period to life. Devin's blue eyes make for a striking portrait. I imagine that Devin sat for the portrait shortly after the battle of Five Forks. He appears quite young at the time.

GPA Healy, daguerreotype (c. 1850, Brady Studio/Library of Congress)
I'm no art authority, so can't help much with artist identification. Healy was certainly famous for this kind of portrait, and painted many. He was, in fact, America's most prolific portrait artist. His of Abraham Lincoln are justifiably famous.
I'm worried that some of Healy's work is rather finer and more subtle that this Devin portrait, but he produced a range of image quality over his career including works very similar to this in style, so it seems possible it is his.
If the artist is Healy, the work would likely have been painted between 1865 and 1869, after which time the artist left Chicago for 21 years in Europe — though he did return occasionally to complete commissions in the US during that period.
On the Battle of Five Forks
There are many people more expert than I in cavalry operations, including at least three other bloggers, so I hope someone will weigh in with more on Devin and/or Five Forks.
Briefly, the battle took place southwest of Petersburg, Virginia, on 1 April 1865. It was one of a series of actions–beginning at Quaker Road on 29 March–which forced General Lee to pull his Army out of fixed defensive positions around Richmond/Petersburg and begin the withdrawal which ended at Appomattox Courthouse 9 days later.


Five Forks, detail, by PD Philippoteaux (c. 1885/Virginia Historical Society)
At Five Forks General Devin was in command of a division of Cavalry–which may have fought dismounted–and is credited with turning the Confederate flank and breaking the battle open, or at least hastening it's end.
During the battle Sheridan himself took up a flag and led a charge that pierced the left of the Confederate line. This scene has been depicted in art several times since, including the dramatic version by Paul D Philippoteaux, above [the artist is better known for the Gettysburg cyclorama].
The battle also produced some long-lived controversy, as Sheridan relieved his Infantry Corps commander, Major General Gouverneur K. Warren, for being late to the party. Warren's promising career was thereby ruined, though he did eventually (1879) get a court of inquiry to clear him of some (all?) of the charges.
The Five Forks battle site is now part of the Petersburg National Battlefield.