I visited the battlefield Visitor's Center (VC) last Friday evening for a special event, and, as is always the case at Antietam, came away with some unexpected gems.

These include seeing Antietam on the Web used 'in the field' on a wireless PDA, hearing news about progress on Virtual Antietam, getting my mitts on the new Park brochure, and being charmed by a nightscape from the mountaintop …

The Friday event itself was a bit underwhelming weighed against a difficult drive to Sharpsburg. It was a reception in honor of the long hard work that's gone into thoroughly indexing Hagerstown (Maryland) Newspapers for the period 1790 through the Civil War, to 1865. It was really for the volunteers and project team on the Historic Newspaper Indexing Project, so I was glad to be one of the small crowd there to cheer them. Thanks to them all for a massive and successful undertaking.
The featured attraction for the evening was a talk by Brayton Harris on Wartime Journalism, focusing on combat reporters and artists of the American Civil War. Captain Harris' presentation, along with a related exhibit of period newspapers in the Battlefield Museum was a preview of Saturday's program for the public. Nice as it was, it hardly compensated for the miserable drive I'd just had up from DC.
While chatting with me in the VC theater just before the Captain's presentation, Stephen Recker casually mentioned that he often goes to AotW on his Sprint Treo cell phone/pda while on the battlefield or elsewhere in the region. He says he uses it to answer tour questions on officers and units, and fact-check on artifact hunting expeditions. I was somewhat incredulous, having not seen the site on the tiny screen before.
But he gave me a quick demo, and I was immensely gratified with how well it works. The strategy of using standards-compliant XHTML with CSS (vice tables or other fixed format) for layout has paid off big-time. The phone did a great job of presenting information and search screens that were easy to read and use. I'd been thinking about creating a specific stylesheet for such devices, but I don't think that's urgent given how well the site seems to perform now.
I'd be pleased to hear from anyone else who regularly uses a cell phone or wireless PDA for web work like this. What's your experience been?


48th Pennsylvania at Antietam
(S. Recker, Virtual Antietam)
While I had Stephen cornered, by the way, he let me know that his ambitious Virtual Antietam project is moving forward again. He hopes to have it finished in 2007. Of course he already has a wealth of information online. My favorite of his features is the complete monument database: that alone is worth the visit.
Last, but not least: on the way out of the Visitor's Center I grabbed an early copy of the new Park brochure. Ranger Mannie hinted at it back in January, now here it is. I gather from Tom Shay (via TalkAntietam) that they're now being issued to Park visitors, so it's not a hush-hush deal any longer.

2007 ANB park brochure, front (folded)

2007 ANB park brochure, back (folded)



2007 ANB park brochure, front inside (campaign timelines and summary)


2007 ANB park brochure, front inside (battle aftermath)



2007 ANB park brochure, back inside (battle summary and leaders)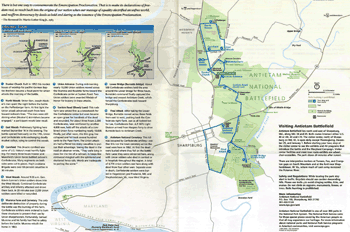 2007 ANB park brochure, back inside (tour narratives and map)
It was Park Historian Ted Alexander [audio clips] manning the desk and from whom I got the brochure. I should have introduced myself, but at least now I can put a face with his name, too.
On the ride back over South Mountain I paused just under the crest at Turner's Gap and admired the view back toward Sharpsburg. A quiet, mild night, with twinkling farmstead lights scattered across the view. Priceless.
What a fine evening at Antietam.