Welcome to the third Military History Carnival! Here you'll find a random and eclectic selection of recent blog posts talking about military history of one kind or another. These are hardly an exhaustive survey of all military history posts, obviously, but may point you to new time sinks for future enjoyment.
Saddle up!
Oh say, who can see?
We begin with the Americans, overrepresented, as usual, but not without some merit.
Let's start you off gently with something you might expect in this topic: a personal connection on the occasion of Memorial Day. In Our Father Hardly Ever Talked (at Echidne of the Snakes), daughter 'olvlzl' posts a snippet about her WWII Marine father. OK, so not exactly as expected.
How about a family visit to the Oriskany Battlefield and Museum (posted at New York Traveler)? Author Mrs. Mecomber says of it
For Americans, the Battle of Oriskany was one of the most decisive battles of the American Revolution. The Mohawk Valley militia, responding to what would be known as the "Three-Prong Attack on New York State," sacrificed their lives on this Upstate battlefield. My blog article is about my family's visit to the hallowed site of the Oriskany, NY, place of the Bloodiest Battle of the Revolution.
Plenty of postcard scenes set the visitor's perspective. Hallowed indeed. Feeling better?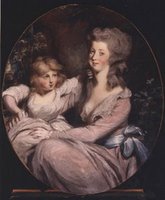 Peggy Shippen Arnold
(from Madame Royale)
Nearby in time and space blogged the Battlefield Biker. BB wrote Vermont Republicans and a Future American Traitor Take British at Fort Ticonderoga 10 May 1775. You needn't have a scoot to appreciate, though.
That traitor he mentions? It looks like General Arnold's new, young wife Peggy Shippen (posted at Madame Royale) had some role in his treachery. At marriage he: 39, she: 19. Hubba hubba. My juvenile commentary aside, there's very nice work here from Madame.
Of course there's more to see if you're looking about in the Real World√¢'Äû¬¢. Jon Rochetti recommends the National Museum of Health and Medicine in a quick post called Medic!!! (at The DC Traveler). You already knew about General Sickles' leg, right? Saw that as a kid with my dad (when it was at Walter Reed, I think) and felt unseemly attraction to it. Do all young historians take such pleasure from War detritus? Take yours, and see. [NMHM]
After I'd been thinking about Sickles, by the way, an alert reader came in with a post which segues beautifully from this point. In a post on Scribal Terror Gail Hapke looks into the military origins of the term Basket Case. Side discussion: baskets > wicker > wheelchairs > Sickles. Right, then. Let's move on.
John McCrea stays on track with his new blog Blue and Gray Stew. His recipe calls for tidbits like Confederate Artillery Deals Deadly Blow in World War II (you could look it up) and Jefferson Davis Delivers Deadly Weapon to the Union Army. Teasers, sure, but easily digested. Just close your eyes until the spoon arrives; blue and gray meat can't be terribly appetizing.
Now we come to Rob MacDougall (he of Old is the New New) in Dungeon Master Zero and follow-up R&D. At first, these posts seem off topic for this Carnival. Patience! After a bit he gets deep into the crannies of the history of role playing games, of particular interest here are war and strategy games. Do go see.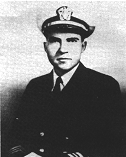 Lieutenant Commander RM Nixon
(c. 1945, photo: US Navy)
Events somewhat closer to the present comprised the easily overlooked military career of Commander Nixon as posted by Jennie Weber at American Presidents Blog. The Naval Reserve in Iowa in 1942? I had no idea. The US Navy Historical Center adds that in October 1942 Lieutenant Nixon
went to the Naval Reserve Aviation Base in Ottumwa, Iowa, where he served as Aide to the Executive Officer until May 1943.
"Radar" O'Reilly was from Ottumwa. Significant?
As we climb to today, in our generally chronological way, I give you, Ripped from the Headlines, Ian (Agonist) Welsh's A Mile in my Enemy's Shoes (at Firedoglake) on what's wrong with American policy in the Middle East. This rant barely qualifies for this Carnival (and Gavin'll probably never ask me to host again) as there is very little of History pre-2000 in it, but it was earnestly submitted as an "overview of 20th century American foreign policy and military history". You be the judge.
Those upon whom once the sun never set
Hoo-ah. In this carnival you poor English persons are in for it.
Long before Empire, the roots of the Myth of the Longbow were growing. Myth-buster The Wapenshaw has a nicely shaped counter to the legend, in a lengthy piece well worth plumbing. As a bonus, the post also contains

I believe this myth gained strength in the first half of the twentieth century. I think in part it was a reflection of historical influences by some Marxist thoughts melding with the early growth of the social sciences of this time. The idea arose that historical change was the product of conflict between the oppressed and their oppressors.
I'm ecstatic to be able to work that in. Thanks blogger-with-title-vice-name.
On a note no brighter, and after visiting Oriskany and Ticonderoga (above), try Manhattan from the perspective of the Redcoats in John Ferling's Almost a Miracle, an excerpt from his book posted at the Oxford Press' OUPblog
…When merely fifty yards of open, lonely road separated the British from the Continentals, the redcoat commander ordered his men to fire. A crash resounded and a plume of acrid smoke rose from the British line. Not a single American was hit by the volley. The New Englanders immediately answered with fire of their own. They were better shots, or perhaps simply luckier. Four British regulars fell. Neither side moved. The British fired again. This time Continentals fell, but those still standing returned the fire. The Americans were amazingly ≈ìCalm & Steady,¬ù according to an American officer, as unperturbed as if shooting ≈ìat a flock of Pidgeons or Ducks and not in the least Daunted or Confused.¬ù
Military History that still smells like military history. Now we're getting somewhere, eh?

Field Marshal Sir Douglas Haig
(via Photos of the Great War)
Moving on a few years, Ross Mahoney asks Were British Generals of the First World War Donkeys? (at Thoughts on Military History). As in, 'Lions led by Donkeys'. Well? Were they? I always thought so, but what do I know. I have had great fun punning with "re-assess" (heh), however. Yes, Ross deserves better. Apologies.
For another story of this era, Gavin suggests I point out to you the recent bloggy interest in "war poet" Siegfried Sassoon and his newly found Military Cross (see also the Guardian). George (Great War Fiction) Simmer tantalizes with
The more I read about Sassoon, the more complex a character he seems. And his relationship with the truth becomes most interesting¦
Relationship with the truth? Go ahead, George, say it (liar, liar, pants on fire). He's gone, you know, and can't bite.
Oh, but then after seeing it in 'print' as Siegfried Sassoon was a big fat liar from Dr. Esther (Break of Day in the Trenches) some kind of reason is introduced in In Fairness to Sassoon. Rats. Reason, bah.
And now for something completely different
YID With LID has marked the Anniversary of when Israel Saved The World with a discussion of the successful 1981 Israeli F-16 attack on an Iraqi nuclear reactor. At least I think that's what it's about. Between the blog-bling and violent green text (randomly alternating between serif and sans), who can say for sure. All the same, as the event saved the World, and all …
Last, but not least, Mark A. Rayner gives us a pulpish work of 'speculative fiction' in The Afrikaners of East Nissouri posted at the skwib. He characterizes it as "prescient alternate history by the Edwardian SF writer, Emily Chesley". It may be that. I'll just slip out the back while you're distracted with it …
_______________
Thanks very much to Mrs. Mecomber, Jennie Weber, John McCrea, Penny Richards, Shaula Evans, Gavin Robinson, Ross Mahoney, Kate Klenfner, Sammy Benoit, Jon Rochetti, Mark A. Rayner, Battlefield Biker, and Brett Holman, all of whom submitted suggestions for this edition. Thanks additionally to Gavin for launching this crazy idea in the first place.
Do stay tuned on this same network for a much better version when the Fourth edition of the Military History Carnival is hosted by the Battlefield Biker on Sunday the 8th of July 2007. E-mail submissions to $tj at $battlefieldbiker dot com (less '$') or the mail form on his blog. Of course there's always the submission form at Blog Carnival.