Or: another great day on the battlefield.
I was glad to be part of a small group of SHAF volunteers and Park Natural Resources guys planting tree seedlings along Antietam Creek yesterday.
It was in a part of the Park I'd never visited before: a strip of low land along the west side of the stream running north from where the Burnside Bridge Road crosses about one-quarter mile above Burnside Bridge.

A new forest of green tubes (looking northeast, creek to the right)
A larger team of about 35 people had been nearby planting the weekend before, during the Park Work Day. Between us, then, we'd planted hackberry, tulip poplar, and maple (others?) three and four deep along a half-mile of creek bank. These are all native species likely to do well in that location.
These trees and the grassy field adjacent will form a riparian buffer to protect the stream and its banks. The seedlings themselves are protected and nurtured by those 'greenhouse' sleeves and stakes.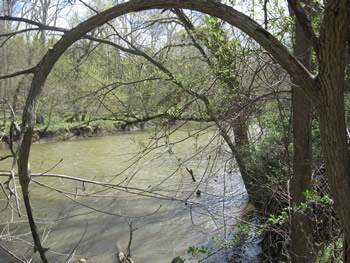 view back across Antietam Creek from west bank
On the afternoon of 17 September 1862 this ground was the province of the troops of Colonel Benjamin Christ's Brigade (First Brigade, First Division) of the Federal Ninth Corps.
They had crossed the stone bridge to the west bank about 2pm and followed it north to this meadow. About 3pm they formed in line of battle here preparatory to advancing toward the town of Sharpsburg [map]. In order south to north (l to r) , behind the 79th New York Infantry as skirmishers, these were the 17th Michigan, 28th Massachusetts, and Christ's own 50th Pennsylvania regiments.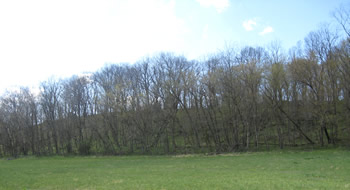 bluff west of Antietam Creek, north of bridge road
With their backs to the creek, they faced a stiff climb up that steep slope.
… after the formation of the Corps line, the Brigade advanced, under a heavy fire from Cemetery Hill and the high ground west of the road, to within a few yards of this point where it was checked. After a short delay the 79th New York advanced as skirmishers and compelled the Confederate Artillery to retire. The Brigade was about to move forward, when the attack of A.P. Hill on the left of the Corps obliged it to fall back to the Antietam …
(from War Department tablet no. 63 [map])
____________
Thanks to Tom Clemens and SHAF for sponsoring the planting, the Natural Resource Rangers for doing what they always do: take such fine care of our Park, the Chesapeake Bay Foundation (CBF) for the young trees, and to the other volunteers for getting muddy with me.
____________
For related photos–including one of Christ's Brigade's tablet–see a lovely page from Tom Shay created on the 100th anniversary of the raising of the monuments to 48th and 50th Pennsylvania regiments at Antietam in 2004.