Eric Wittenberg has put up a fine post featuring James Childs, Colonel, 4th Pennsylvania Cavalry, killed at Antietam on 17 September 1862. Elements of the Fourth were among the few Union cavalrymen engaged at Sharpsburg that day – the Federal mounted arm was not a major factor in the battle.
Eric's study – and that distinctive photograph of the Colonel – reminded me of a gap in my digital collection of portraits. In particular the face of the man who followed Childs in command of the unit, his Lieutenant Colonel James K. Kerr. As usual, looking for Kerr led to other serendipitous connections and people … thanks Eric!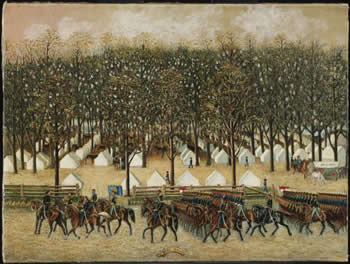 Fourth Pennsylvania Cavalry [McClellan Drilling Troops, 1861] (artist unknown, Phila Museum of Art)
The 4th Cavalry (64th Regiment of the line) was recruited from Pittsburgh and counties of Allegheney, Indiana, Lebanon, Luzerne, Northampton, Venango, and Westmoreland. Organized in August and September 1861. They formed first at Camp Curtin (Harrisburg), but soon moved to camp near the Soldiers' Home in Washington DC, where they were mustered into Federal service in October with three battalions of four companies each. The original field officers:
David Campbell, Colonel
James H. Childs, of Pittsburg, Lieutenant Colonel
James K. Kerr, of Venango county, First Major
William E. Doster, of Northampton county, Second Major
James H. Trimble (or James T. Trembell), of Westmoreland county, Third Major
Apparently the regiment very nearly became infantry before they ever saw action. As Bates* has it …
The greatest drawback was the difficulty experienced in getting suitable horses. So late as the 1st of March, 1862, only six companies were fully mounted, and one other partially so. Four of these companies were acting as provost guard in the city of Washington. An ingenious piece of strategy was practiced to mount the balance. The captains of companies not mounted, procured an order authorizing them to select a certain number of disabled horses from the corral daily, until all were supplied. These were immediately traded for those ridden by the companies on guard in the city. On inspection day, these worthless animals were condemned and the men directed to draw sound ones from the corral for artillery horses. In point of morality this action is indefensible; but it saved the regiment from disbandment, and is hence not without some redeeming qualities…

The cavalry arm of the service was not at this time in favor, and many organizations were transformed to infantry. Through the influence of prominent members of Congress from Pennsylvania, this one was preserved intact …

On the 12th of March, Colonel Campbell resigned, to take command of the Fifth Cavalry, and Lieutenant Colonel Childs was promoted to succeed him. Major Kerr was promoted to Lieutenant Colonel, and Captain George H. Covode [Co. D], to Major.
I believe that was the command team Gardner photographed on the Virginia Peninsula in August 1862, and the men who would lead the Regiment at Antietam in September:


Col. J. H. Childs and staff, Westover Landing, Aug. 1862 (A. Gardner, coll. Library of Congress)
So who's who in this photograph?
The man on the right wearing Lieutenant's shoulder straps is probably the Adjutant.

Robert L. Coltart? (detail from Gardner photo, August 1862)
But I am not certain who he is.
Bates indicates Robert L. Coltart (or Coulthart) of Company I was promoted from 1st Lieutenant, Company I to (or mustered into the unit as) Adjutant, 28 December 1861 then to Captain, Company I, 20 December 1862. This suggests he was Adjutant for most of 1862. So I think the picture is of Coltart.
Colthart was a lawyer in Pittsburgh in 1860. Like others of the Regiment including Colonel Campbell, he had previous Army service in the Spring of 1861 with the 12th Pennsylvania Infantry, a 3-month unit. He'd been 2nd Lieutenant, Company B.
On the other hand, the man could be William M. Biddle, whom Bates reports being promoted from Adjutant to Major on 14 March 1862. He was wounded and captured in action at Glendale on 30 June 1862, and it's not clear when he returned to service. His veteran cards (part of Bates' research) only show that he was 1st Lieutenant in Company M and/or the Staff – not specifically Adjutant.
According to an 1863 family history, Biddle was born 13 February 1837, had also been a lawyer – in Carlisle, Pennsylvania – and that he was "severely wounded and was taken prisoner in the fight before Richmond, June, 1862."

James H. Childs (detail from Gardner photo, August 1862)
Colonel Childs is easy to identify – he's standing in the center of the shot.
The other two men, not so easy. It can be difficult to to tell a Lieutenant Colonel from a Major by shoulder insignia in a black and white photograph. I see oak leaves on both men.
Here's where serendipity comes in. While looking up further biographical information about James Kerr, I found a mention in "snippets" online from Roger Hunt's Colonels in Blue. The man on the cover looked familiar, and the back flap identifies him as (Colonel) George H. Covode. How do you like that!


Book jacket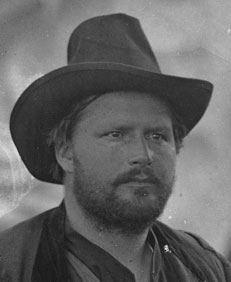 George H. Covode (detail from Gardner photo, August 1862)
George Hay Covode (b. 1835) was a Westmoreland County merchant and US Congressman's son. He mustered as Captain, Company D of the Fourth in September 1861. In March 1862 he was promoted to the open Major's position. He was made Lieutenant Colonel on 8 December 1863, and finally Colonel of the regiment 28 May 1864. He was killed, not quite one month later, in action at St. Mary's Church, Virginia.
Although it may be a slight leap, I believe that leaves the reclining chap as Lieutenant Colonel Kerr [update March 2010: but he isn't… see USAMHI photograph of Kerr in the comments below].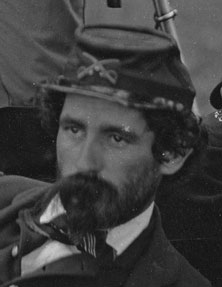 James K. Kerr? (detail from Gardner photo, August 1862)
It's possible he's one of the other 2 Majors, but Major William Doster was still on duty as Provost Marshal in Washington, and James Trembell (or Trimble) resigned his commission 12 August. It's circumstantial, but Bates mentions Kerr in command of a battalion of the Fourth on the Peninsula, but not Trembell.
[update February 2022: I think he's Major Doster. See a comment with comparison photographs, below]
I'd appreciate if anyone with ready access to a Regimental on the Fourth could look into Trimble and get more of his story.
James K. Kerr had been an "eminent lawyer" since at least 1850 in Franklin (Venango County), Pennsylvania before the War.
He was appointed First Major of the Regiment at its organization, and was promoted to Lieutenant Colonel when Colonel Campbell transferred to command the 5th Cavalry in March 1862. He was made Colonel on 18 September following Colonel Childs' death at Antietam.
He commanded cavalry brigades January – March 1863, but resigned from the service on 17 May 1863 for reasons of health. He then returned to the practice of law, establishing himself in Pittsburgh, where he died at about age 52 in 1876.
Soon after Gardner took that lovely photograph, those four officers and the Regiment returned from the Peninsula – serving last at Yorktown (to 25 August) – and passed through Washington (arrived 4 September). They were on the way to Manassas, but were not in time for 2nd Bull Run.
They did join Pleasonton's Cavalry Division of the Army of the Potomac on the Maryland Campaign.
In the movement into Maryland, the army being again under General McClellan, the Fourth had the advance until it reached Frederick City, when it was assigned to General Averill's Brigade. The illness of the latter preventing him from taking the field, the command of the brigade devolved upon Colonel Childs, that of the regiment upon Lieutenant Colonel Kerr…

The brigade crossed the Antietam with the troops upon the left, and was posted in front of the Stone Bridge, where the Fourth supported Clark's Battery and held the line upon its right. A single solid shot, which fell in the midst of the squadron supporting these guns, killed two men and four horses. Colonel Childs was among the killed in this battle …
_______________
Notes
The painting of the Regiment at drill near Washington DC is in the collection of the Philadelphia Museum of Art. It was donated from the collection of Edgar William and Bernice Chrysler Garbisch in 1968. "This anonymous painting shows the newly formed 4th Pennsylvania Cavalry early in the war at its camp of instruction near Washington." The version posted here is from the ExplorePA.com site.
* The quotes above, along with service information about the officers of the Fourth Cavalry are from Samuel P. Bates' History of the Pennsylvania Volunteers (1869-71). To my mind, the best source for Bates and everything Pennsylvania in the Civil War is Alice Gayley's comprehensive website.
The group photograph of the staff of the 4th Cavalry is by Alexander Gardner, and is found in full glory in the collection of the Library of Congress. The catalog lists it as Westover Landing, Va. Col. James H. Childs (standing) with other officers of the 4th Pennsylvania Cavalry, taken in August 1862. I wonder if "Westover Landing" is named for "Westover", a house near Harrison's Landing, Fitz Porter's HQ in June/July 1862? Or maybe vice-versa. I haven't found "Westover Landing" on a map, but have seen descriptions of it as "two miles east of Harrison's Landing".
Adjutant Robert Coltart's pre-War occupation is found in an 1860 City Directory for Pittsburgh, thanks to GoogleBooks.
Kerr's occupation and death from an 1879 History of Venango County, a portion of which is transcribed online. His location in Franklin in 1850 comes from another County history called Centennial Discourse (1876).
The shoulder strap illustration is from the Official Military Atlas of the Civil War (1891-95), Plate 175. I have a couple of printed (reissue editions) copies of the Atlas,and I know it's online (I just can't put my cursor on it right now).
Colonels in Blue cover art from Harry's brief review from 2007. If I had come at it from the other direction, looking into Major Covode first, rather than Kerr, I'd surely have found the lovely Brady shots of him at the Library of Congress.