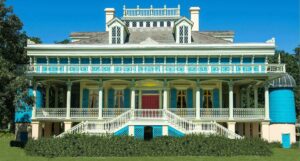 This imposing structure is Charles Bozonier-Marmillion family's main house on Saint-Frasquin (later San Francisco) Plantation on the Mississippi in St. John the Baptist Parish, Louisiana. At age 20 he enlisted as a Private in the 3rd Company, Washington Artillery of New Orleans in 1861. In 1862 he was commissioned 2nd Lieutenant then Captain of Company G, 10th Louisiana Infantry.
He was wounded at Sharpsburg in September 1862 and by November 1864 he commanded the combined 10th and 15th Louisiana Infantry regiments in the Shenandoah Valley of Virginia as senior officer present.
He returned to the plantation but died there relatively young at age 35 in 1875, probably of tuberculosis, as had his mother and most of his seven siblings before him. The photograph of that house is from San Francisco Plantation.