Captain Charles F Walcott is a hero to those who study Massachusetts soldiers in the Civil War (or at least to me) because he wrote the Regimental History of the 21st Massachusetts Infantry (1882). In the preface he apologized for taking more than 15 years to complete the book while raising children and running a law practice in Boston.
A Harvard man, he'd adventured West during a "gap year" in 1857 before law school. He had travelled to Minnesota, "living with the Sioux and Winnebago", went down the Mississippi to New Orleans and returned home by ship by way of Cuba.
Walcott was the original Captain of Company B of the 21st, commissioned in August 1861, and he commanded it on the Maryland Campaign of 1862 – at Fox's Gap on South Mountain and right behind the 51st PA & 51st NY over Burnside's Bridge at Antietam.
He left the 21st Massachusetts in April 1863 and married Anna Morrill Wyman in October.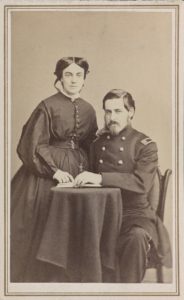 He did a 90-day stint commanding a local militia unit in the Summer of 1864 then was appointed Lt Colonel (soon Colonel) of the new 61st Mass in September. He mustered out in June 1865.
In 1866 he was honored by brevet to Brigadier General of Volunteers.
He was a lawyer in Boston for the next 20 years and died at age 50 in 1887.
In about 1980 his grandson Dr. Charles F. Walcott (Harvard, Harvard Medical School) donated a box of Indian artifacts to the Cambridge (MA) Library, a few of which are identified as local to Massachusetts, collected by Dr. Walcott. The rest are apparently of unknown provenance. That collection is pictured online via Flickr.
"The only outlier to the Native American objects in the collection is a box containing two bullets and a minie ball from the Battle of Antietam"  – actually 2 minie bullets and a musket ball or cannister shot, I think.
Although not documented, I can guess who first collected some of these objects, can't you?
________
The late-1864 photo with his wife is at the Library of Congress (part of the Liljenquist Family Collection of Civil War Photographs).