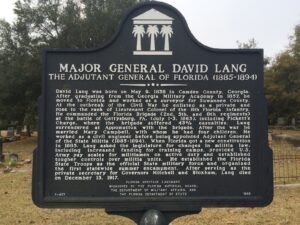 David Lang was a Captain in the 8th Florida Infantry at Sharpsburg in September 1862, and was wounded while in command of Company C there. He was Colonel of the regiment by May 1863 and commanded a Brigade at Gettysburg in July. He was in the Confederate delegation at the surrender at Appomattox Court House on 9 April 1865.
After the war he was a civil engineer, a member of the Florida legislature (1885-1893), and Adjutant-General of the state militia (1885-94).
This marker celebrating his life is next to his gravestone in Tallahassee's Old City Cemetery; the photograph of it is online in the Historical Marker Database thanks to Mark Hilton.
His photograph below, in his Major General's uniform, is from the Florida State Library & Archives.