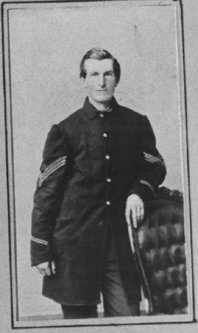 Philadelphian Ambrose Henry Hayward – known as Henry – was a Corporal in Company D, 28th Pennsylvania Infantry by June 1861. At Antietam in September 1862 he helped drag his wounded Brigade commander Colonel Tyndale to safety. Under intense fire the whole time, he later wrote
… there was no one who had a more narrow escape than myself. A ball knocked off my cap and nearly took me from my feet. I put my hand up and saw there was no blood and smiled.
He was promoted to 2nd Sergeant in December 1862 and First Sergeant of his Company in January 1864, but was mortally wounded in action at Pine Knob, GA on 15 June. He died in a hospital in Chattanooga, TN four days later.
His photograph here from the Massachusetts Commandery of MOLLUS Collection via the Historical Data Systems database.