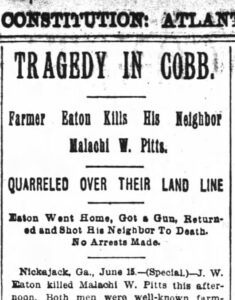 Malachi Whitfield "Mally" Pitts was a Maryland Campaign veteran – a Private in the Phillips' Legion Infantry Battalion – he'd been captured in action at Fox's Gap on 14 September 1862. He survived the war to return to farming in Cobb County. This clipping is from the Atlanta Constitution of 16 June 1895.
Pitts' killer and longtime neighbor Joseph W Eaton may also have been in Maryland in 1862, with the 7th Georgia Infantry. He was convicted of voluntary manslaughter in 1896 and sentenced to 10 years, but pardoned in January 1900 by Governor Candler who noted
Deceased [Pitts] seems to have been the aggressor, and there is doubt as to any criminal intent on the part of the defendant. Previous good character.