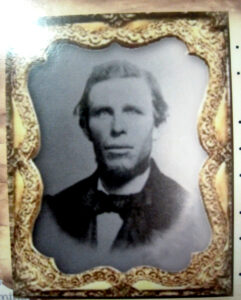 Sergeant Jonathan P Stow of the 15th Massachusetts Infantry was wounded in his right leg at Antietam on 17 September 1862. He recorded his remaining days in his diary, beginning with …
Sept. 18th – Thursday. Misery. Acute, painful misery. How I suffered last night. It was the most painful of anything have experienced. My leg must be broken for I cannot help myself scarcely any. I remember talking and groaning all night. Many died in calling for help … Sergt. Johnson, who lies on the other side of the log is calling for water. Carried off the field at 10 AM by the Rebs who show much kindness but devote much time to plundering dead bodies of our men … Water very short. We suffer much.
His leg was amputated on the 20th and he seemed to improve, but he died of complications from the wound and surgery on 1 October 1862 at the field hospital on the Hoffman Farm at Keedysville, MD.
His photograph is from the Grafton Historical Society. His diary was transcribed online by Joan Gage.