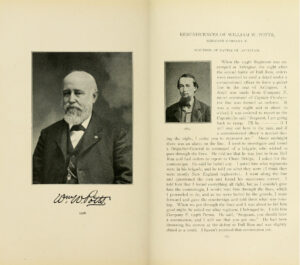 Sergeant William W Potts of the 124th Pennsylvania Infantry was wounded by a gunshot to his right foot in action in Miller's cornfield at Antietam on 17 September 1862. On 20 September he went off on his own by way of Hagerstown and Chambersburg – where he got his first medical attention – to Harrisburg, where he reported to an Army hospital.
That extraordinary after-Antietam story is in Robert M Green's History of the One Hundred and Twenty-fourth Regiment, Pennsylvania Volunteers in the War of the Rebellion 1862-1863 (1907), the first two pages shown here. The whole text is online thanks to the Hathi Trust.
He was a prominent farmer at Swedeland, PA after the war. This is a photograph of his family home at Swedeland from a page in T.M. Potts' Historical Collections Relating to the Potts Family in Great Britain and America (1901), online thanks to GoogleBooks.