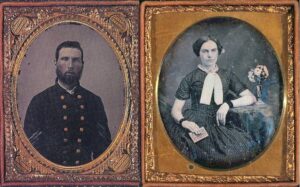 Corporal John Wesley Franks, Company K, 7th South Carolina was promoted to Sergeant on 25 March 1862 but was reduced to Private on 13 May at the reorganization of the regiment, so the photograph of him – wearing those stripes – must have been taken in that brief span. He was mortally wounded my artillery fire at Antietam on 17 September and died the next day.
That's his wife Jane R Wilhite. She may have died about 1860, or shortly after her husband in 1862. In either case that left their son Lewis (7) and daughter Alice (4) orphans to be raised by relatives in Georgia.
Both photographs here were contributed to John's Findagrave memorial, by user JFJN and Stanley A. Hutson, respectively.