Private William Hollander, Company F, 4th Texas Infantry was severely wounded at Sharpsburg in September 1862 and discharged for wounds the following May. For 20 years afterward he was a farmer in Hays County, Texas, until, according to family information, he was killed on a cattle drive in April 1883.
He left a widow, Martha Ann ("M.A. Hollander"), and 6 children from 6 to 18 years old. He'd thought to buy life insurance, which must have helped …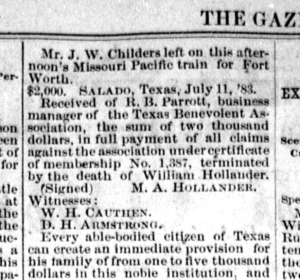 This is clipped from the Fort Worth Daily Gazette of 21 July 1883, online from The Portal to Texas History.