Company B of the 4th Texas Infantry had a little white terrier as a mascot, given them by an Austin confectioner at the start of the war (said Ted Alexander).
Among the soldiers on his roster of the the Company, Val C. Giles listed the dog:
"Candy," the little white dog, went with the company from Austin and became a great favorite with the regiment. Engraved on his collar was, "Candy, Co. B, 4th Texas Regt." When George L. Robertson lay wounded in the field hospital at Sharpsburg, he saw a band wagon parading through the camp with the little "Rebel" prisoner. He got lost from his company and regiment in the old cornfield and was captured by the enemy.

In the battle of Gaines's Mill he got separated from us, and next morning, when the burying detail was sent out from our regiment, they found Candy cuddled up under the arm of poor John Summers, who was killed the evening before. There was not a man in the company, and I doubt if there was one in the regiment, who would not have divided his last piece of hard-tack with Candy.

We never saw him after the battle of Sharpsburg.
I don't know of a picture of Candy, but here's a famous white military terrier of a later generation – Willie – from Life magazine of 28 August 1944: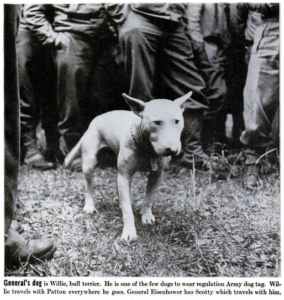 _______________
Giles' roster is in the Confederate Veteran magazine of January 1918, pages 20-23.