As you probably know, nearly all 1890 United States Census records were destroyed in a fire in 1921 leaving a permanent information gap familiar to historians and genealogists. Not so familiar, I expect, are a set of special veteran's schedules the Bureau collected during the 1890 Census, most of which survived.
This Special Schedule was particularly valuable to me in learning about a mystery soldier of the 16th Connecticut Infantry.
He enlisted as Lewis Bulgick, a Private in Company H in August 1862, was wounded at Antietam on 17 September, and was discharged from the service for disability in February 1863.
I spent quite a bit of time trying to learn more about Private Bulgick, with little luck. Other regimental researchers before me have had this same problem – all the way back to his fellow veterans in the 1890s. I found a little for him in Massachusetts records of the 1860s and 70s, but nothing about his ancestry, birth, or death.
Then I stumbled upon a page of the 1890 Special Schedule for Southbridge, MA. Here it is (click to enlarge):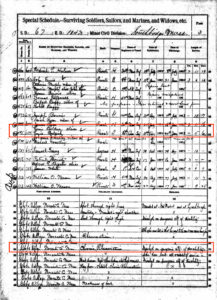 There on row 35 is the key: he also used the alias Louis Bolduc, his birth name, it turns out. With that I was easily able to find his Québécois parents and 17 (!) siblings, birth and death information, the works. Very satisfying.
I do not know why he used the Bulgick name instead of the one he was born with – but I believe he consciously chose it, it's not just a phonetic mis-transcription: in addition to enlisting as Bulgick, he also gave that name to the 1860 and 1870 census enumerators and the Massachusetts towns where some of his 8 or more babies were born. Some of his children seem to have later used Bulgick (or variations) and some Bolduc.
______________________
For much more detail about the history of the 1890 Special Schedule, see First in the Path of the Firemen by Kelee Blake in the National Archives' journal Prologue for Spring 1996.
I got my copy of this particular page from Ancestry.com.