I don't do commercial endorsements, generally, but do think you should know about a new online service from Jim Studnicki called Civil War Microfilm. Not only will it be valuable to those researching the Civil War, it's an excellent example of well-executed grass-roots digital history.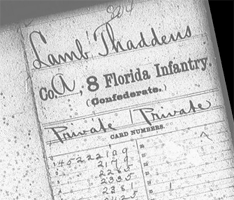 Jim is also the creator of the Civil War Florida website, a vast collection of information about Floridians who fought in the American Civil War. Since inception in 2001, CWF has grown into quite a community of researchers. Jim and that site have been of great help to me in filling in the blanks for Florida units and leaders at Sharpsburg on AotW.
read the rest of this entry »
I was very pleased to see a new blog pop up this weekend on the subject of the 48th Pennsylvania Infantry. Perhaps best known for their digging skills at Petersburg in 1864, the regiment is also one of "mine" (sorry)–part of the IX Corps on the Union Left at Antietam.
The blog is published by Mr John Hoptak, who looks to have the chops to do this fine unit some justice. He's already posted some excellent officer photos and a significant three–part post on their first Colonel, James Nagle. That's Nagle in bronze atop the 48th's monument at Antietam, above.
Welcome to the 'sphere John, and we're looking forward to great things.
This past week I was reminded of a website maintenance chore I've been neglecting. An observant and sympathetic reader noted our link to the Meade Archive was broken because the site had moved. This kind of thing happens all the time, of course.
Cross-linking to other information is the best thing about the Web, but also its Achilles' heel. Sites move, change, and disappear at an alarming rate. I have, at this point, thousands of links from within AotW to other sites. If there were dozens or even a hundred, I might be able to click on them every three months or so, to check to see that they still work.

Since that's not practical, I depend on a lovely little automatic tool called the Xenu Link Sleuth (review w/screenshots). It's a Windows desktop program–written by Tilman Hausherr–that runs through the site checking every link and reporting results. It's quite fast, and also free. I've using it for 4 or 5 years now, and recommend it highly.
Xenu produces a variety of reports to show broken links, redirects, and other link issues. You can control how deeply Xenu spiders your site, include or exclude directories, and configure the reports to meet your needs. Very easy.
Word to the wise for our new digital historians: check those links, prevent link rot. 'Course, now that I've done my first check in about a year, I have a huge pile of issues to chase down and resolve.
It's not all glamor and glitz, you know.