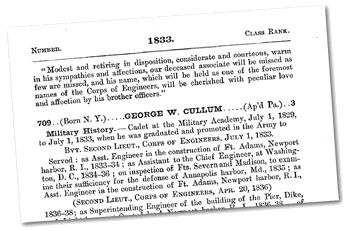 Students of American military history have been referring to the painstaking work of Cullen for many years. I've never actually seen a print copy of his Biographical Register of the Officers and Graduates of the United States Military Academy, only bits and pieces derived from it. But last week Harry Smeltzer pointed me to an online copy from West Point [now gone] which–as we commiserated together–may become the biggest time sink for me since the Official Records first went digital. I'm in your debt, Harry.
As is my habit, I did some digging into the life and career of the man behind that massive work and his legacy at the USMA, West Point. As anyone with a Cullum Number already knows, he had quite a ride …
George Washington Cullum was born in New York City, and raised in Meadville, Pennsylvania. He graduated third in the class of 1833 at West Point, and got a plum Army assignment as brevet 2nd Lieutenant in the Engineer Corps. By skill or other influence unknown, he first rose quickly in rank, appointed 2nd Lieutenant in 1836 and jumped to Captain only two years later. However, it would take war, more than twenty years after, before he was again promoted: a common story for officers in a peacetime Army in which someone at the top had to resign or die before a vacancy came open.
For most of his Army career he worked on fortifications and other major public works projects. His first assignment was at Fort Adams on Newport (RI) Harbor, under legendary engineer Joseph Totten (Army Chief Engineer 1838-64). Over the two decades following, he designed and built forts, seawalls, bridges, and lighthouses. These included Forts Trumbull, Warren, and Winthrop at New London, Connecticut and Boston, Massachusetts. He also served at War Department headquarters in Washington, and on engineering boards and commissions.

Fort Adams, Newport Harbor by GW Cullen (c. 1833-38; National Archives)
During much of the Mexican War (1846-48) he was stationed at West Point as superintending engineer for devising and constructing sapper, miner, and ponton trains for War with Mexico, building the new Cadet Barracks, and as a drilling officer. In 1848 he was assigned there as instructor in Practical Military Engineering.
During that period he studied and wrote on techniques using "India rubber" floats (or pontons) in military bridges, publishing a Description Of A System Of Military Bridges, With India-Rubber Pontons in 1849. The volume served as the standard for such bridges through the Civil War.
In 1850 he also published his first Register of Officers and Graduates of the USMA, later expanded to be the biographical reference with which his name will always be associated. The Captain was granted an extended leave for illness from 1850 to 1852, and traveled widely, visiting Europe, Asia, Africa, and the Caribbean. On his return he resumed duties as instructor at the Point under new Superintendent Robert E. Lee.
As an illustration of Lee's care for his staff, biographer Douglas Southall Freeman later wrote:
If members of the faculty found opportunity for advancement, Lee tried to assist them. When Captain George W. Cullum, for example, was suggested as superintendent of the assay office in New York, Lee arranged for Cullum to discharge that service while retaining his position at the academy, and he was disappointed when the Secretary of War withheld his consent.
In 1855 Lt. Colonel Lee joined the 2nd US Cavalry in Texas, and Captain Cullum returned to engineering in the field, working again in coastal New England and on projects at Charleston, South Carolina, including the soon-to-be infamous Forts Sumter and Moultrie.
At the outbreak of War in April 1861 he was assigned to the staff of General in Chief Winfield Scott as Chief Engineer and Chief of Staff at the rank of Lieutenant Colonel in the Staff Corps.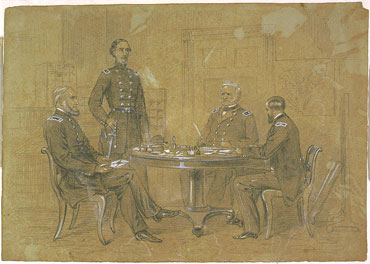 General Scott giving orders to his aides for the advance of the Grand Army
[George Cullum, Schuyler Hamilton, Winfield Scott, Henry Van Rensselaer]
War Department, Washington DC, July 1861 (Alfred Waud/Library of Congress)
In August 1861 he was appointed Brigadier General of Volunteers and went to work for Major General Henry W. Halleck, new commander of the Department of Missouri. Halleck–known as "Old Brains" for his studious pursuits in Military Science before the War–was a fellow USMA graduate (1838) and Engineer. He and Cullum became close friends and associates.

Brigadier General G.W. Cullum (c. 1861)
While in the Western Theater, Cullum supervised new fortifications and mapping projects, designed defenses for St. Louis, briefly held command at Cairo, Illinois, and oversaw the siege and later defense of Corinth, Mississippi (April – July 1862).
Returning East with Halleck on 23 July, he inspected the Federal defenses of Harpers Ferry and Martinsburg, Viginia (August 1862), consulted on the system of forts at Washington DC, and served on a myriad of engineering panels evaluating fortification technology and design, as well as boards of instruction and promotion.

Brevet Major General G.W. Cullum (c. 1865; Library of Congress)
On 8 September 1864 Cullum was appointed Superintendent of the US Military Academy at West Point. He filled that post for two years, until 1866. His administration was known for raising admission standards and enforcing cadet discipline.
Promoted to full Colonel of Engineers in 1867, Cullum's last years in the Army were spent on engineering boards and commissions considering such issues as modification to the defenses of New York, river and harbor obstructions, and the defense of the United States generally. He retired from active duty on 13 January 1874 under the law of July 17, 1862, he being over the age of 62 years after 45 years of service.
In 1875 George Cullum married for the first time, taking as his bride Elizabeth Hamilton, widow of Henry Halleck. Elizabeth was also granddaughter of Alexander Hamilton, and her brother Schuyler had been on General Scott's staff with George in 1861.
Residing in New York City, he was active in many civic and social groups, but was focused especially on the American Geographic Society and his beloved Military Academy.
He completed his third edition of the Biographical Register in 1891 at about 82 years of age, and died in New York less than a year later of pneumonia.

Cullum Hall, USMA, West Point, NY (1958; USMA Library)
In addition to gifts to many New York charities, Cullum's Will bequeathed $250,000 (left him by his wife, from the Halleck estate) for construction of a Memorial Hall at West Point. Later named Cullum Hall, it:
consists of a large ballroom on the second floor with a capacity of 700 persons and a formal room on the first floor that is used for receptions and ceremonies. Graduates of the Academy who have died in battle are memorialized on bronze plaques throughout the top two floors.
Above all, though, Cullum's most significant legacy is his Biographical Register. His system of Cullum Numbers assigned to all West Point graduates begun with his first version in 1850, is still maintained today.
____________________
Cullum career highlight chronology
25 February 1809 – born in New York City
date unknown – moved to Meadeville, PA
1 July 1829 – entered the US Military Academy (USMA), West Point, NY
1 July 1833 – graduated #3; Brevet 2nd Lieutenant, Engineer Corps, USA
1833-34 – assistant engineer in construction of Fort Adams, Newport, RI
1834 to 1836 – assistant to Chief Engineer, USA at Washington DC
20 April 1836 – promoted 2nd Lieutenant, Engineer Corps, USA
1836 to 1838 – assistant engineer in construction of Fort Adams, works at Goat Island, Newport, RI
7 July 1838 – promoted Captain, Engineer Corps, USA
1838 to 1855 – construction of Fort Trumbull, New London, CT
1841 to 1855 – construction of Battery Griswold, New London, CT
1846 to 1847 – construction of Forts Warrren, Independence, and Winthrop, Boston, MA
1846 to 1847 – superintending engineer for 'devising and constructing sapper, miner, and ponton trains for War with Mexico, and for drill purposes at the Military Academy'
1847 to 1848 – researching, writing work on India rubber ponton bridges; supervisory engineer in construction of Cadet Barracks, West Point, NY
25 March 1848 – Instructor of Practical Military Engineering, USMA (to 19 May 1851); Commandant of Sappers, Miners, and Pontoniers (22Jun48 – 5Jul50)
1850 to 1852 – sick leave of absence, in Europe, Asia, Africa (50-51) and West Indies (51-52)
1850 – published Register of the Officers and Graduates of the U. S. Military Academy
1 June 1852 – Instructor of Practical Military Engineering, USMA; Commandant of Sappers, Miners, and Pontoniers (to 1 Jan 1855)
1855 to 1858 – in construction of Fort Sumter and facilities at Castle Pinckney, Fort Moultrie, and Fort Johnson; improvement of Maffit's Channel; lighthouses and beacons, Charleston, SC
1858 to 1861 – directed construction of Fort at Clark's Point, New Bedford, MA; repairs and operation of works in Newport, RI and New London, CT harbors
1859 to 1864 – design of works in defense of New York Harbor
12 January 1860 – member of the Board to revise the program of instruction at the USMA (to 24 April)
9 April 1861 – appointed Lt. Colonel, Staff Corps, USA; ADC to General-in-Chief Winfield Scott
13 June 1861 – appointed to US Sanitary Commission (to 24 Feb 1864)
6 August 1861 – Colonel, Staff Corps, USA; ADC to GIC (to 1Nov61); to Major, Engineer Corps, USA
1 November 1861 – appointed Brigadier General, US Volunteers; Chief Engineer to Gen Henry Halleck, Commander of the Departments of Missouri and Mississippi (to 11Jul62)
11 July 1862 – Chief of Staff to Major Gen Halleck, General-in-Chief (to 12Mar64) and Chief of Staff (to 5Sept64) of the US Army
3 March 1863 – promoted Lt. Colonel, Engineer Corps, USA
1863 – published a translation of Duparcq's Elements of Military Art and History [notice] and authoritative paper Systems of Military Bridges [notice]
8 September 1864 – appointed Superintendent, USMA (to 28 Aug 1866)
13 March 1865 – brevetted Colonel, Brig. Gen., Major General, USA for War service
1 September 1866 – mustered out of US Volunteers
7 March 1867 – promoted Colonel, Engineer Corps, USA
1867 – published Biographical Register of the Officers and Graduates of the U. S. Military Academy (2nd ed. 1879)
24 November 1866 – Member of the board on the defenses in the vicinity of New York (to 18May67)
18 May 1867 – Member of board of engineers for 'Fortifications … for the Territory of the United States' (to 13Jan74)
21 May 1873 – leave of absence in Europe (to 4Nov73)
13 January 1874 – retired from Army service (on being over 62 years old); established residence in New York City
23 September 1875 – married Elizabeth Hamilton, widow of Henry Halleck (d. 1872). She was granddaughter of Alexander Hamilton and brother of Schuyler Hamilton seen in the Waud sketch above.
1879 – published Campaigns and Engineers of the War of 1812-15 against Great Britain
1870s-80s – officer or member of numerous charitable, political, veterans, and geographical organizations in New York and internationally; author of papers on history and geography
1891 – published 3rd Edition of his Biographical Register
18 February 1892 – died at New York City of pneumonia
___________________
Notes
The considerable detail about Cullum's career and works is, of course, from his own Biographical Register. A snippet of that 3-page entry is seen at the top of this post. Cullum's own Cullum Number is 709.
The 1861 photograph is from the Generals of the American Civil War, and looks like a cleaned up version of an original at the US National Archives. I've seen CDV copies online and for sale. A similar Brady photograph, possibly from the same session, is also in the Archives' collection.
The drawing of Fort Adams and tidbit about Totten are from material by John T. Duchesneau on the Fort Adams website; he credits Daniel Titus and the National Archives for the image.
See much more about rubber pontons (pontoons), including reference to Cullum's designs, from Civil War Pontoon Bridges by Robert Niepert.
The Freeman quote above is from his massive 1934 Biography of Lee, citing letters from Lee to Army Chief Engineer Totten, and Lee to Cullum, of October and November, 1853. The full, annotated text is online from Bill Thayer.
The Smithsonian has put a small CDV of Elizabeth Hamilton Halleck online. While she apparently died before her second husband George, leaving him money she inherited from successful first husband Henry, I do not know exactly when.