Tom Clemens makes his debut in the blogosphere today on The Maryland Campaign of 1862. That's also the title of his two-volume series coming soon from Savas-Beatie: a carefully annotated edition of General Ezra Carman's life's work.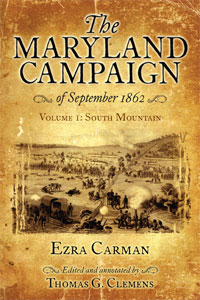 Volume 1: South Mountain arrives mid-May 2010.
Among other things, Tom promises to use the site to get some of the hundreds of letters from battle veterans to Carman and the Antietam Battlefield Board online. Those eyewitness accounts formed much of the factual basis for Carman's iconic narrative of the battle.
Tom's new website/blog uses WordPress software, with a custom visual design built on the Thematic framework. I can recommend this software combination to anyone who wants to get online quickly, while still serving clean, fast-running and compliant code, with simple maintenance and vast flexibility in visual appearance.
In short, the tool doesn't get in the way of the content.
WordPress makes it easy for Tom – who is not a web guy by profession – to maintain both the content and the look & feel of his online home down the road.
Good blogging and welcome, Tom!