I've had a great day today burrowing through photographs hosted online by the Alabama Department of Archives and History finding pictures for some of "my" guys.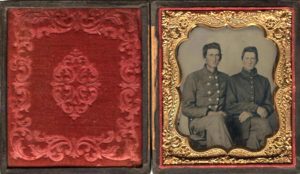 Here's one I thought particularly poignant, an ambrotype of Privates Charles and David Faust, Company B, 10th Alabama Infantry. They look a bit uncertain, don't you think? At least Charles (on the left) does …
They enlisted together in June 1861 – Charles age 24, David 18.
David was not with the Company in Maryland in 1862, but Charles was.
Charles Wesley Faust was promoted to Sergeant in August 1861 but was killed in action in the Wilderness, VA on 5 May 1864.
David Clinton Faust (1843-1912) served through the war and was afterward a farmer in Jefferson County, AL.
---
Update 30 January 2023
After hearing from descendants Patricia and Sarah, I looked a little harder at the Faust brothers.
I think they spelled their name Foust. This from their family bible records, the Census of 1860, and their Compiled Service Records at the National Archives. Faust is the much more common spelling, and is how they are identified at the Alabama Archives, but Foust is not unknown. There's no certainty here, of course, just a range of possibilities.
Another brother, James Asbury Foust (b. 1838) enlisted in Greenville, AL on 28 February 1863 as a Private in Company D, Hilliard's Alabama Legion/4th Artillery Battalion (organized in Montgomery in June 1862). He died of disease in La Grange, GA on 4 October 1863; a family bible record has his death on 22 February 1863 – probably the day he left home.