I've had a great day today burrowing through photographs hosted online by the Alabama Department of Archives and History finding pictures for some of "my" guys.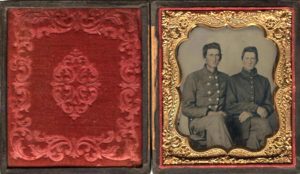 Here's one I thought particularly poignant, an ambrotype of Privates Charles and David Faust, Company B, 10th Alabama Infantry. They look a bit uncertain, don't you think? At least Charles (on the left) does …
They enlisted together in June 1861 – Charles age 24, David 18.
David was not with the Company in Maryland, but Charles was.
Charles Wesley Faust was later promoted to Sergeant but was killed in action in the Wilderness, VA on 5 May 1864.
David Clinton Faust served through the war and was afterward a farmer in Jefferson County, AL.