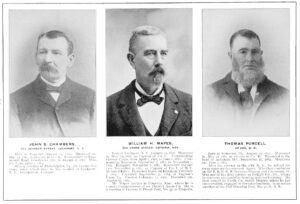 The 28th New York Infantry was reduced to four consolidated companies, about 65 men, by September 1862, and they were commanded at Antietam by Captain William Henry Harrison Mapes of Company C.
He resigned in November 1862 but he helped form a new unit in 1863, the 2nd NY Mounted Rifles, and was their Major when he was captured at Peeble's Farm near Petersburg, VA on 30 September 1864. He was a prisoner into March 1865 and mustered out in August.
After the war he farmed in Kansas, and is seen here in a photograph in Charles W Boyce's A Brief History of the Twenty-eighth Regiment New York State Volunteers, First Brigade, First Division, Twelfth Corps, Army of the Potomac (1896).
He was among the veterans who dedicated the New York State monument on the Antietam battlefield in 1920 and he died in 1932 at age 94.