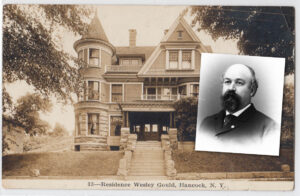 Private Wesley Gould, Company F, 45th Pennsylvania Infantry was the youngest of 6 brothers who served during the war. He had just turned 18 years old when was twice wounded in action on the Maryland Campaign of 1862: at Fox's Gap on South Mountain and at Antietam 3 days later. He survived his wounds, as well as a stint as a prisoner of war in Libby Prison, Richmond and Salisbury, NC (1864-65), and was 2nd Lieutenant of Company F when he finally mustered out of service in July 1865.
After the war he farmed, then went to law school and was a life-long lawyer and politician in his native Delaware County, NY. He married Pamelia Brazie (1846-1921) in 1868 and they had two daughters. Pamelia's brother Jacob had been a Sergeant in Company F and a POW with Wesley.
The photograph here is of Wesley, probably as a NY State legislator (c. 1894), contributed to the Family Search database by Frederick Neil Simms [free membership required]. It's over a 1912 postcard view of his home in Hancock, NY. The postcard was offered for sale by HipPostcard.