In an 1899 letter to Ezra Carman of the Antietam Battlefield Board, Captain Gabriel Campbell formerly of the 17th Michigan Infantry, by then a Dartmouth professor, described the part he and his regiment played in the combat at Fox's Gap on South Mountain on 14 September 1862. Toward the end of his narrative he gives us these nuggets:
… Just as we finished removing and caring for the wounded in the field, a few rebels without arms appeared coming into the field, ostensibly looking for their dead and helpless comrades. I quickly observed that they were pilfering from our dead as well as their own, and also gathering up arms, occasionally discharging a musket into the air. When I remonstrated with them for picking pockets and firing at random, they answered [illegible]. As I was now the only Union soldier in the field, I walked quietly towards the exit.

Just as I reached the doorway at the S.E. corner, I met General Willcox who asked with some indignation what that firing meant. I replied the men were rebels who were robbing the dead and picking up arms. I pointed to several who were just then climbing the fence, coming in from the woods, and added this was evidently the beginning of a volley. Gen. Willcox turned his horse, touching him with his spur, and rode back hastily.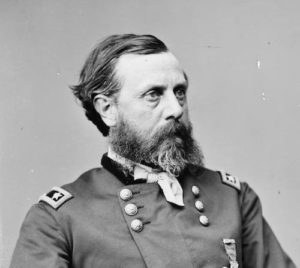 Orlando B. Willcox
The twilight was growing dusky. Meditating on the stranger events of the day – a most suggestive Sunday eve – I was winding my way slowly back to the regiment when, about 50 yards from where I met Gen. Willcox, I encountered Gen. Reno and four or five members of his staff riding quietly to the front. Reno, who was about half the length of his steed in advance, was leaning forward peering steadily through his field glass, in order, evidently, to reconnoiter for himself.

Jesse L. Reno
I stood and watched. Just as I reached the end of the fence, there was a sudden fusillade – five or six shots in about a couple of seconds. There was at once commotion among the Reno horsemen, a dismounting and catching of someone. Evidently the rebels had begun to form behind the stone fence. Quickly an orderly comes back leading several horses. To my inquiring 'what happened?', he answered, 'Reno's shot.' Immediately men bearing the General on a blanket follow. They pause as they meet me, and are glad of a little assistance in carrying the middle of the blanket on the right side, which duty fell to me. It was too dark to see Reno's face at all closely. He seemed pale but perfectly composed. No one of us spoke. We bore our beloved commander silently, slowly, tenderly …
______
Thanks to Jim Smith for the poke to look into Captain Campbell.
The picture of General Jesse Reno is from a CDV sold by Heritage Auctions in September 2016. General Willcox's is from the Library of Congress.