I have had a great time pulling a research "thread" this evening and thought both of my readers might like to share in the journey.
Looking into Sergeant John Martin Rushton (1837-1889) of the 7th South Carolina Infantry.
I started with Glen Swain's excellent roster in The Bloody 7th (Broadfoot, 2014), based mostly on the Consolidated Service Records (CSRs) from the National Archives.
Those records say Rushton was wounded at Sharpsburg in 1862. In November – December 1864 he was in a hospital in Richmond, VA with a gunshot wound in the shoulder, then served as an attendant in another hospital there. He retired in March 1865, presumably for disability, and was paroled at Augusta, GA in May.
Nothing unusual here; it seemed like a typical soldier story until I looked at his gravesite on Findagrave, which refers to him as Dr. Rushton. Not so many enlisted men were later physicians, so I thought I'd find out when and where he trained.
A little digging online with various forms of his name, and up popped an announcement in the Richmond Dispatch that J.M. Rushton of Edgehill [sic], SC graduated from the Medical College in Richmond (now part of Virginia Commonwealth University).
In March 1865.
Oh-ho! Now we're having fun: did our man attend medical school while still a soldier and patient/hospital aide in 1864-5?
That would be unusual.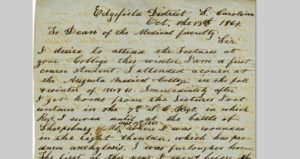 Then I got really lucky. Thanks to the digital archives at VCU, I found an October 1864 letter John Rushton wrote to Levin Smith Joines, the Dean of the medical school. In it, he requested admission to the Winter 1864-65 course, noted he'd had previous training in Georgia 1860-61, and best of all, described what he'd been doing since Sharpsburg.
So, in contrast to the tale of the CSRs, it turns out he was furloughed home after he was wounded in the shoulder at Sharpsburg and I don't think he ever returned to his unit. By January 1864 he had been judged disabled and was teaching school in Edgefield, SC.
He was admitted to the Medical College for the 1864-65 winter session and graduated in 1865. The day after he'd been "retired" in the Army records, coincidentally.
Long story short – I got to see part of the man's story in his own hand, in real time. Rare, but very gratifying. And a lot more exciting than the basic and sometimes confused service records.
…. on to the next story.