From the American Medical Times of 1 November 1862 [via GoogleBooks], a list of the Surgeons-in-charge and locations/buildings making up each of the US Army's ten General Hospitals in Frederick, MD after Antietam.
Here's Surgeon John Jefferson Milhau in a carte-de-visite photograph posted to his Findagrave memorial by Family Search (the Mormon genealogy database) …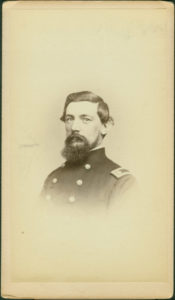 … and a snapshot of his US Army service from Heitman's Historical Register and Dictionary of the United States Army (1903).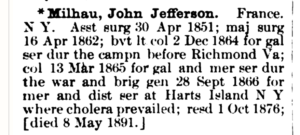 _____________________
List transcription:
General Hospitals under charge of Surgeon J. MILHAU, USA at Frederick, Md.
No. 1. Assist. Surgeon R.F. WEIR, USA United States Barracks.
No. 2. Assist. Surgeon I.F. BRINTON, USA US Hotel, City Hotel, Jail St. Schoolhouse. [probably John Hill Brinton, US Vols]
No. 3. Assist. Surgeon J.H. BILL, USA New Episcopal Church, Presbyterian Church, Old Episcopal Church, German Reformed Church, Methodist Protestant Church, Bonsall's Academy, Coppersmith's Building.
No. 4. Surgeon J.H. THURSTON, US Vols. Methodist Church, Winchester's Seminary, Lutheran Church.
No. 5. Surgeon H.S. HEWIT, US Vols. Novitiate Convent.
No. 6. Surgeon I.B. LEWIS, US Vols. Upper School, House Bethel Church.
No. 7. Assist. Surgeon C.I. WILSON, USA Bowling Saloon, Tannery.
No. 8. Camp "A." Assist. Surgeon NOTSON, USA near Alms House.
No. 9. Camp "B." Surgeon T.B. REED, US Vols. Camp on Shookstown road.