Older than your average company officer at about 46 years, Captain Stephen H. Darden led Company A of the 4th Texas Infantry in Maryland in 1862 and was conspicuous at Sharpsburg on 17 September:
Color-bearer Parker, of Company H, was severely wounded and left on the field. At his fall Captain Darden, of Company A, seized and carried the colors until we fell back to the woods.
Not long afterward he was commissioned Colonel of a 6-month home-front unit, the 4th Regiment, Texas State Troops and served with them on the Gulf Coast (1863-64). He was then elected to the Confederate Congress (1864-65).
After the war, like many former Confederate officers and public officials, he made an application for amnesty from possible prosecution. As part of that, he signed this Oath of Amnesty in Houston, TX on 31 July 1865.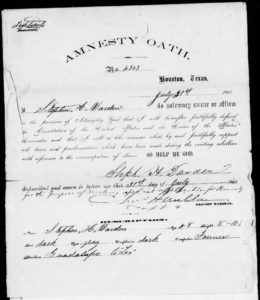 I've seen many references to such oaths in soldiers' records, but not actually seen a paper copy before. This one is among his Compiled Service Records in the US National Archives, Washington, DC.
Here's Colonel Darden in 1876 when he was serving as the Comptroller of the State of Texas, in a photograph taken in Austin posted to the FamilySearch database by a family genealogist.