Colonel Isaac J Wistar commanded the California Regiment (designated the 71st Pennsylvania Infantry) at Antietam and was later commissioned Brigadier General of Volunteers.
Here he is wearing some serious epaulettes.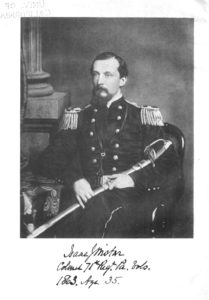 To compare, here are two pictures of him as a much younger man.
He was halfway in age between the two lower views when he took off across the continent from Philadelphia to find gold in California in 1849. Quite an adventure. He only came back 12 years later because of the war …
_____________________
All three pictures are from his posthumously published Autobiography of Isaac Jones Wistar, 1827-1905 (1914). It's online [Volume 1 | Volume 2] from the Internet Archives. It's a pretty good read, actually, especially his diary entries from his 1849 trip to California.
____________________
The interesting Wistar artifact below was sold by Heritage Auctions in 2008. The accompanying photograph is very similar to the one at the top of this post, and was probably taken in the same session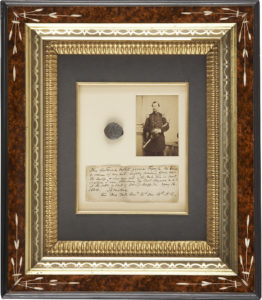 [Bullet that Grazed the Head of Brigadier General Isaac J. Wistar]
From the seller: A mushroomed Confederate minié ball is preserved in a inlaid period frame with a CDV of the general and a 5″ x 2″ Autograph Note Signed, reading as follows:
"This flattened bullet passed through the brim & crown of my hat, slightly drawing blood on the scalp & was dug out of the oak tree in front of which I was standing by Capt. Reynolds A.A.G. at the battle in front of Drewry's Bluff, Va. May 16, 1864. J I Wistar then Brig Genl' Commdg 2nd Div. 18th A.C."