Christopher Ausman enlisted, along with his brothers Jacob and Peter, as a Private in Company G of the 59th New York Infantry in November 1861. Both Peter and Christopher were wounded at Antietam on 17 September 1862, and Jacob was listed for some months afterward as "missing" and his official military record ends there.
But his brothers knew he'd been killed.
Peter returned to duty, was captured in 1864, and died while a prisoner in the camp at Salisbury, NC. Christopher survived the war and went home in June 1865 after mustering out with the remains of the regiment at Munson's Hill in Arlington, VA.
In November 1866, in support of Jacob's widow's pension application, Christopher sat for a deposition with a Montgomery County, NY justice of the peace, Jonathan Mosher. These are the JP's notes (touch to enlarge):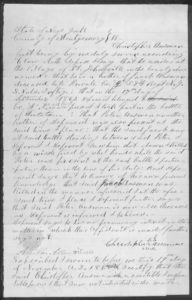 The gist of the testimony is in about the middle of that word-pile:
… That Peter Ausman, another brother of Deponent [Christopher] was also present at the said time & place [Antietam on 17 September 1862]. That the said Jacob was at said battle standing between said Peter and Deponent & Deponent saw him shot down & killed by a missile fired by rebel hands …
____________________
This document is from Mary Jane Harvey Ausman's pension file, US National Archives. I found it online from fold3.