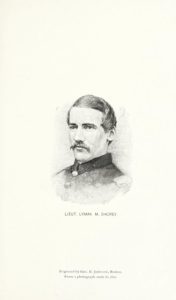 First Lieutenant Lyman Munson Shorey's military career with the 7th Maine Infantry ended with a serious wound to his foot in an ill-fated charge on the Piper Farm at Antietam on 17 September 1862.
Afterward he returned to school, graduating from Harvard with a law degree in 1864 and studying in the Divinity School there for a year to 1867. He went into the baggage express (delivery) business in New York City with his sister Elvira's husband Hiram Studley and he took over the company after Hiram retired in 1872. Here's his impressive letterhead on a customer's receipt from January 1886.

________________
His picture here from an engraving after a photograph in William C Hatch's A History of the Town of Industry (1893), online from the Internet Archive. The receipt is among the Thomas A Edison Papers, Digital Edition, at Rutgers University.