A widely re-printed newspaper piece contributed by an anonymous soldier of the 13th Pennsylvania Reserve Infantry – the Bucktails – tells the story of the death of two soldiers, possibly of the 5th Alabama Infantry, near Turner's Gap on South Mountain on 14 September 1862. It's sounds apocryphal, but may be true.
The short version is that Colonel Hugh McNeil of the Bucktails made an amazing rifle shot, killing two of the enemy with one bullet, bounced off a rock. McNeil was himself killed two days later on the evening of 16 September at Antietam.
Here's the version printed in The Democratic Press (Eaton, OH) of 1 January 1863. The paper is online from the Library of Congress (touch image for full story).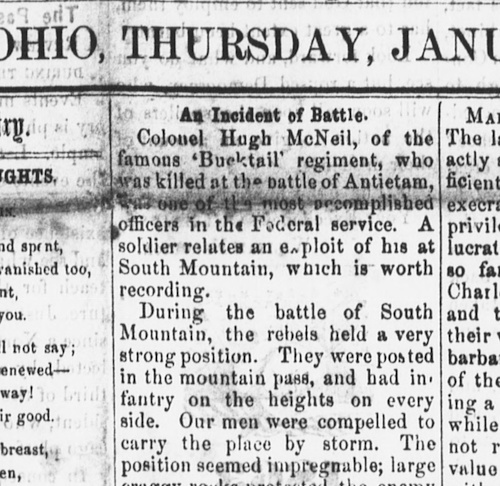 Thank you to Miles Krisman for poking me to look more carefully into the men of the 5th Alabama Infantry on the Maryland Campaign of 1862.