20 year old William Elmer Thorp enlisted in the 21st New York Infantry – the First Buffalo Regiment – in May 1861, was wounded at Antietam in September 1862, and mustered out with his regiment in May 1863, their two year term of service expired.
He enlisted again, though, in the US Navy in August 1864 at the Brooklyn Navy Yard. He served a year or less, as a Landsman aboard USS North Carolina and USS Princeton – both receiving and training ships.
North Carolina may have been bolted to the pier at the New York Navy Yard in 1864, but was a top warship, a 74-gun ship of the line, all sail, when on active service between 1820 and about 1840.
The first USS Princeton, launched in 1843, was the Navy's first screw steam warship, but had an unhappy history (see "Explosion of the Peace-maker") and was scrapped as too expensive to maintain in 1849.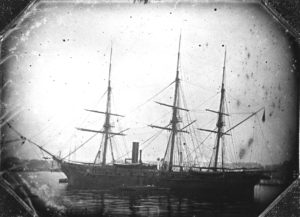 Landsman Thorpe's Princeton, seen here in about 1853, was the second of her name, a clipper-built steamship launched in 1852. Some of the timbers of the first Princeton were used in her hull. She saw active service off the Eastern US and in the Caribbean from 1853 – 1855, then was stationed at Philadelphia as a receiving ship from 1857 to her sale in 1866.
_______
William's carte de visite photograph above is from the New York State Military Museum, online among the New York Heritage digital collections.
These fine ship images are online thanks to the US Naval History and Heritage Command.
North Carolina is a photograph of a watercolor from the 1820s "attributed to Warren (?), and Princeton is of a daguerreotype from the 1850s; the original is in the Mackay Collection, international Museum of Photography at George Eastman House, Rochester, NY.