Here are two excellent CDVs of Federal Surgeon Bernard Albert Vanderkieft from Mike Fitzpatrick's collection.
From 16 September 1862 to 13 May 1863 Dr Vanderklieft was in charge of the largest Antietam field hospital, known as the Antietam or Smoketown Hospital, and he and the other surgeons there treated hundreds of patients during and after that bloody battle.
Here's a shot of Dr Vanderkieft (center, on the tent pole) with other surgeons and staff at the hospital taken in October or November 1862. It's from Bob Zeller's The Blue and Gray in Black and White: A History of Civil War Photography (2005).
And here's a look at Dr Vanderkieft's distinctive signature, from the December 1862 Certificate of Disability for Discharge of Pvt John Westbrook, 104th New York.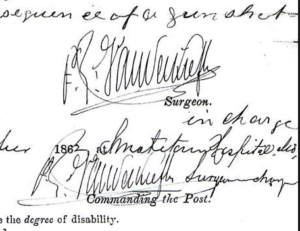 _______________
Mike Fitzpatrick kindly shared his CDVs of Vanderkieft on his flickr feed here and here. Both were taken in about 1864 when he was Surgeon in Charge of the Naval School Hospital in Annapolis. The left one taken by hospital resident photographer A. H. Messinger, and the one on the right by Hopkins, Cornhill Street, Annapolis.