This would have been a familiar view for Stephen H Bogardus and his sons Stephen and Eliphalet (!) who worked together in the family's saddle and harness shop about a block east on Main Street across from the Gregory House Hotel.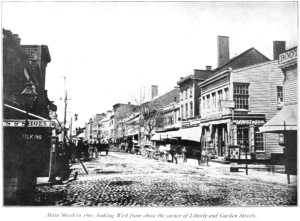 Stephen H Bogardus, Jr. enlisted in April 1861 in the 5th New York Infantry – the famous Duryée's Zouaves – was promoted to Sergeant by October 1861 then commissioned 2nd Lieutenant in the Purnell Legion of Maryland, with whom he saw action at Antietam, where he was at least slightly wounded. He mustered out with the Legion in October 1864 and was briefly Captain of a Company he raised in Poughkeepsie, part of the 192nd New York Infantry, in 1865.
He was a Lieutenant in the Regular Army after the war, to 1871, then briefly back in the leather business in Poughkeepsie. By 1880 and for the rest of his life he was a railroad man with the Santa Fe in New Mexico Territory.
Here's a fine photograph of him supplied to his memorial by the late Brian Pohanka, taken sometime after he was brevetted Major in 1865 for his war service.
The street scene above and the location of the Bogardus shop are from Edmund Platt's The Eagle's History of Poughkeepsie: from the earliest settlements, 1683 to 1905 (1905), which is online from the Internet Archive.
The Eagle refers to the local newspaper in which Stephen, Sr. was a frequent advertiser in 1860. Stephen, Jr. wrote often to the Eagle during the war, and those letters were edited and published in 2002 by Joel Craig as Dear Eagle: The Civil War Correspondence of Stephen H. Bogardus, Jr. to the Poughkeepsie Daily Eagle.
The Bogardus' occupation from the 1860 US Census.
Eliphalet P Bogardus (1834-1929) was probably named for his uncle Eliphalet Price Bogardus, who died at age 13 in 1827. Eliphalet and his father were still in business together as S.H. Bogardus & Son in Poughkeepsie to at least 1872.