United States Military Academy graduate J. (Jacob) Ford Kent (May 1861) had a very long, impressive military career and maintained an impressive mustache for even longer.
He was first in combat at Bull Run in July 1861 and was wounded and captured there, but was exchanged in time to rejoin his regiment, the 3rd United States Infantry, on the 1862 Maryland Campaign. He was a staff officer for most of the rest of the Civil War and in nearly continuous action to the end.
He was afterward an instructor at the Academy and served at posts in the West and South over a span of nearly 30 years right up to the Spanish-American War.
Here he is, mid-career, as a Captain in dress uniform in about 1885.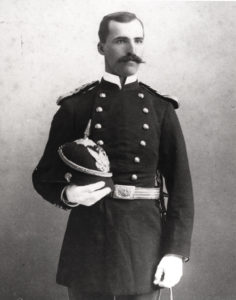 In January 1891 he was serving again as an Inspector General, by then a Major, and his boss General Nelson A Miles detailed him with another officer, Captain Frank D. Baldwin, to investigate the recent fight of the 7th US Cavalry at Wounded Knee in South Dakota.
His facial hair makes him easy to pick out in this photograph of General Miles and staff taken that month at the scene of what has since become known as the Massacre at Wounded Knee (touch to enlarge).
On 1 July 1898, by then a Brigadier General of Volunteers, he led a Division in the famous and successful charge up San Juan Hill near Santiago, Cuba in the war with Spain. Still sporting a serious mustache.
He retired as a Brigadier General, US Army in October 1898 and still looked to be in fighting shape to near the end of his life in 1918. Here he is in a late-life photograph published by the USMA Association of Graduates in 1919: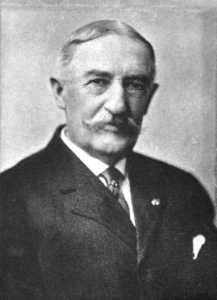 _________________
Notes
The photograph at the top is a CDV of Kent, probably taken while he was serving as Lieutenant Colonel and Inspector General of Volunteers with the Sixth Army Corps, from 1863 to 1865; it was sold by The Horse Soldier of Gettysburg.
The 1885 photograph is from the National Park Service, Lake Roosevelt National Recreation Area, Washington, and was probably taken while Captain Kent was at Fort Spokane. It's online in the NPGallery.
The 1891 group photograph of General Miles and staff was shared online by Sam Russell in a piece called Wounded Knee Investigation on his Army at Wounded Knee blog; an excellent source for much more detail about the Wounded Knee investigation and outcomes. Here's Mr Russell's caption for the photograph:

George E. Trager's "Gen Miles and Staff during Late Indian War at Pine Ridge Agcy," January 13, 1891. From left to right are Captain Ezra P. Ewers, Lieutenant John S. Mallory, Captain Francis E. Pierce, Lieutenant Colonel Dallas Bache, Captain Francis J. Ives, Major Jacob Ford Kent, Lieutenant Colonel Henry C. Corbin, Major General Nelson A. Miles, Captain Frank D. Baldwin, Lieutenant Sydney A. Cloman, Captain Charles F. Humphrey, and Captain Marion P. Maus. General Miles was the commanding general of the Division of the Missouri.
General Kent's 1898 photograph was sold at auction by One Of A Kind Collectibles, Coral Gables, FL in 2012.
The last photograph is from the Fiftieth Annual Report of the Association of Graduates of the United States Military Academy, June 10, 1919.