17 year old Private Elisha S Fargo of the 7th Maine Infantry was slightly wounded at Antietam in September 1862, but was not so lucky at Spotsylvania Court House, VA in May 1864. He was reported wounded there and missing afterward – vanishing from the record. It is likely he was killed.
In 1881 his name was listed on the new Civil War memorial in Augusta, ME dedicated to the men of that city who never came home …
In honor of her heroic sons who died in the War for the Union and to commend their example to succeeding generations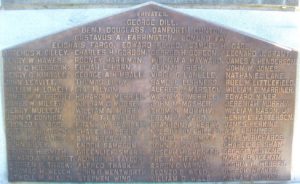 ---
Notes
The plaque above is on one side of the monument, and was photographed for the Historical Marker Database (HMDB) by William Fischer, Jr. of Scranton, PA.